Georgia Smoke BBQ will alter your preconceived notions of what succulent grilled and smoked foods should taste like. We smoke our meats using delicious wood from fallen trees that we cut with chainsaws and split by hand. We personally built our smokers to our specifications. We use the freshest ingredients. We do not, and will not ever cut corners, because we don't have to. We are the best BBQ in Atlanta.
It doesn't matter if you are in the mood for chicken, beef, pork, or fish, Georgia Smoke BBQ will deliver a flavor that you can only find right here in Atlanta, Georgia.
Contact us if you are interested in hiring Georgia Smoke BBQ for catering your event or for delivering a memorable meal.
We offer many unique options. All first class. Some of our smoked offerings include:
Smoked Perfect Pulled Pork
Smoked + Roasted Whole Pigs
Smoked Texas Certified Angus Beef Brisket
Smoked Gainesville Chicken
Unpardoned Smoked + Deep Fried Turkeys™
Smoked Alaskan Salmon
Georgia Smoke BBQ is brought to you by John R. Lenz and Sam Shober.
From the BBQ Blog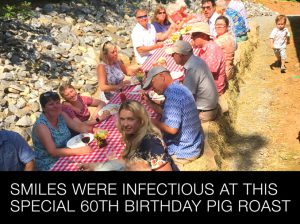 Georgia Smoke BBQ was recently retained to cater a special 60th Birthday celebration in Mineral Bluff, Georgia. People from all over the southeast and from overseas attended the event. Obviously, the pressure was on when you have people traveling thousands of miles just to sample world-famous Georgia Smoke BBQ (and of course attend the beautiful party.)
We met the … (read more…)
---