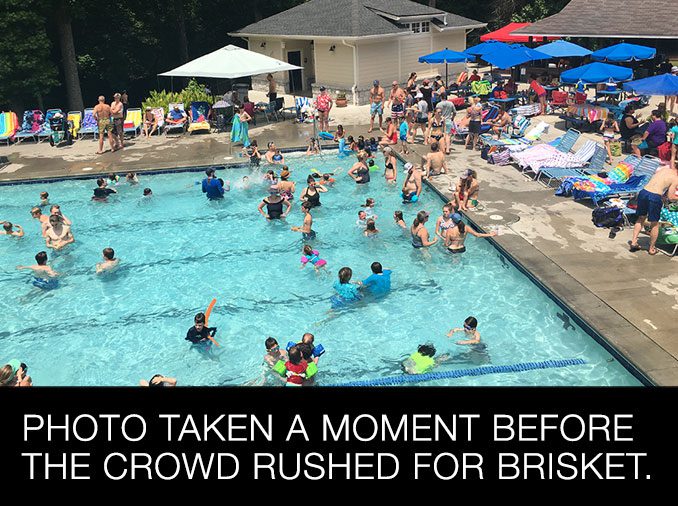 Georgia Smoke BBQ would like to thank the Briarcliff Woods Beach Club for giving us the opportunity to cater the Memorial Day party again. It's an honor to take part.
It was a traditional BBQ this time, and we smoked a ton of pork butts and Certified Angus beef briskets, plus we served roasted chicken and hot dogs for the kids. The sides included authentic cole slaw, baked beans, and loaded tater salad. For the vegetarians, we cooked hand-made black bean patties and served them with tomatillo salsa. Yum.
An attendee had this to say when she saw me: "I think you have the best brisket in Atlanta."
Another: "Thanks for the fantastic meal!"
Thank you to the attendees for all of the nice compliments. Especially since they were mostly unsolicited.
Thank you to the awesome crew who worked their arses off to make this event run as smooth as silk: Kerry Lenz, Liz King, Kim Craig, Kristen Alexander, Nancy Shober, Sam Shober, Carl Craig, Doug Bourgeois, Derek Butler, and David Rutland.
Thank you to the BWBC social chairs Natalie Tibbitts and Will Rountree for your support, and of course thank you to BWBC president Monica Ellingson.
Contact us if you have any questions. Thank you again!