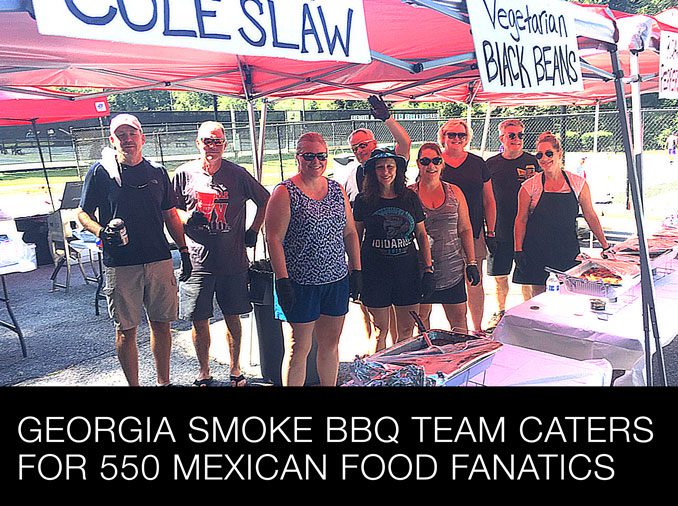 Georgia Smoke BBQ would like to thank the Briarcliff Woods Beach Club for giving us the opportunity to cater the Labor Day party again.
What we try to do with this event is push the envelope with variety, and to make sure that we can also serve kids who don't have a love of spicy food. We provide them with hamburger taco meat, and the ones who like to explore the other options also have plenty to choose from.
The main proteins we provided were smoked Certified Angus Beef briskets, roasted chickens, ground beef, and fried fish for a special Mexican BBQ fusion meal. We served guests in an outdoor setting where they piled corn and flour tortillas high with meat, vegetarian beans, peppers + onions, Mexican cole slaw, and all the fixings, including guac, salsa, fresh cheese dip, and sundry hot sauces.
The reviews are starting to come in.
An attendee had this to say when she saw me: "My son told me that the fish was the best he ever had."
Another: "Thanks for the fantastic meal! I loved the cheese dip!"
Thank you to the attendees for all of the nice compliments. Especially since they were mostly unsolicited.
Thank you to the first-class crew who worked their arses off to make this event what it should be: Nancy Shober, Sam Shober, Kim Craig, Carl Craig, David Rutland, Derek Butler, Liz King, Kristen Alexander, and Jill Garrison.
Thank you to the BWBC social chair Natalie Tibbitts for your logistical and support. Contact us if you have any questions. Thank you again!