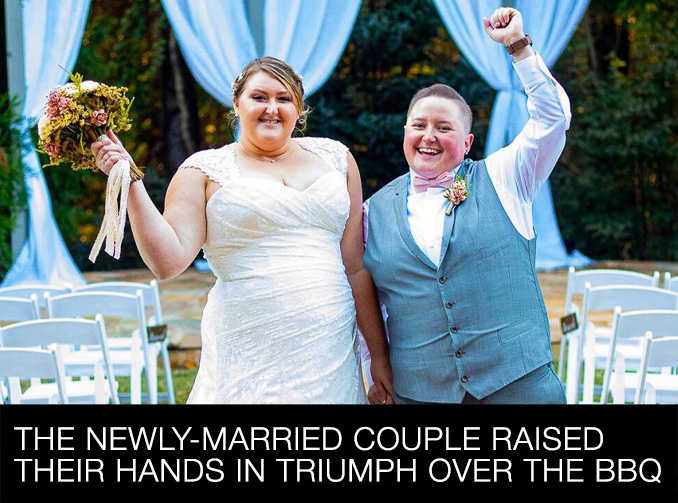 Georgia Smoke BBQ was recently hired to cater a lovely wedding by providing beef brisket, pulled pork, roasted chicken, mac + cheese, baby red potatoes, and corn on the cob.
Travelers from around the southeast made the sojourn to eat the best bbq in Atlanta, and to hopefully at least catch a glimpse of the wedding couple of the decade.
The wedding was set to take place in Woodstock, Georgia at the first-class event venue, Venue 92.
As the time arrived to load up their plates, the guests and wedding party's excitement was palpable, but there was a bit of constant consternation as a cold light rain persisted for most of the day.
A famous musician once sang "nothing lasts forever, like a cold November rain." However, he was proven to be mistaken on this particular November day as the rain cleared out, the clouds parted, and the sun shone through the tall Woodstock Georgia pines shedding light upon the newly-married couple just in time for them to eat beef brisket and pulled pork without being rained upon.
Attendees were overjoyed with the meal, and seemed to be more than content with the results of two nice people deciding to tie the knot.
Here's what one of them had to say about the food and service:
"Georgia Smoke catered our wedding, our guests could not stop raving about the delicious barbecue. Also, John Lenz is a true professional, he and his team checked in with us throughout the night to make sure everything was perfect when serving. Highly recommend, if you are looking for Fantastic, mouth watering barbecue, look no further! — Ash M."
Thank you Ash. You were fantastic to work with and it was an honor to be a part of your special day.