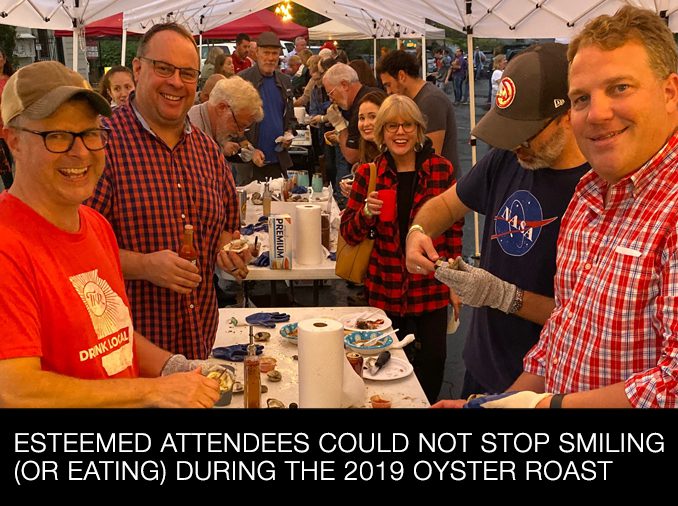 Thank you so much to those of you who attended the Eighth Annual Georgia Smoke Oyster Roast, where we joined with FODAC and the community to help raise more than $5,000 for the McMahan Family's medical expenses.
Many families who could not attend also generously contributed more than $700 to the McMahan family.
We were blessed that the rain held off while we gathered to cook and consume 50 lobsters, 5,000+ oysters, hundreds of pounds of chicken + andouille sausage gumbo, and oak-smoked pulled pork.
We are a hungry community, that's for sure.
While the esteemed throngs gathered 'round tables full of and topped with steamed and raw oysters, Jim Kvicala and the Mudflapjacks played their excellent music and set the tone for the evening.
And after it was all said and done, the community's fundraising total for FODAC has pushed past $30,000.
Thank you to our corporate sponsors: Lenz, Inc., Plus Group, Briarcliff Woods Beach Club,  Georgia Smoke,  All Exterminating, Business Attorney William J. Piercy, and Queenie's Consignment. Thank you to Mo's Pizza for again donating pizzas for the event.
Also, thank you to the number one boss man large and in charge don't take no for an answer no challenge is too tough volunteer team, without whom this event would not happen: Doug Bourgeois, Derek Butler, Carl Craig, Mitch Dickerson, Dave Evans, David Rutland, Sam Shober, and Duncan Van Pelt. Your brainpower, time, hard work, and dedication to the event was stellar.
Thank you to Teresa Mitchell, Grant Mitchell, and Kerry Lenz for running the check-in process.
Thank you to Ellie Lenz for shucking oysters at her "oyster bar" for donations, which added up to over $60.
Thank you to Dan Acker, Dave Barker, James Farquharson, and Gregg Spivack for showing up early the next morning and helping to clean up.
Also a big thank you to BWBC board members Monica Ellingson, Tim Kasate, Michelle Shevlin, and Natalie Tibbitts for your help, trust, and support. And finally, thank you to past board member Steve Seel for lending me his brainpower when I needed it most.
Interested in becoming a corporate sponsor? Contact me. We'll make it worth your while.
Event photography provided by Dave Barker, Patty Butler, Lou Hiers, Michelle Shevlin, and Sam Shober.