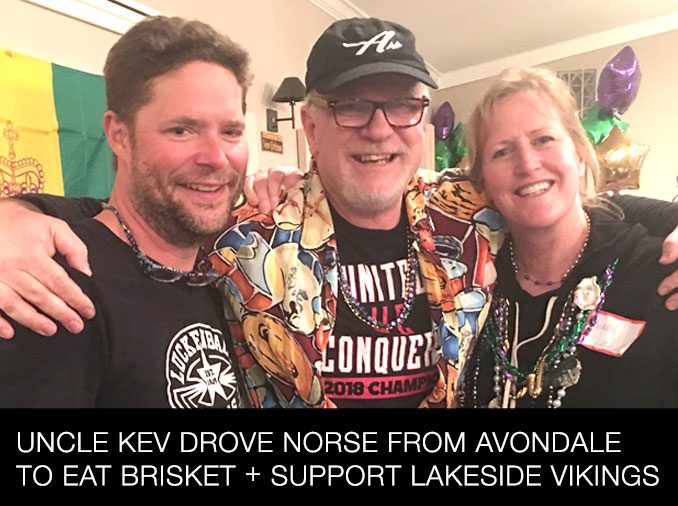 Georgia Smoke BBQ recently partnered with the Lakeside Dugout Club to throw a Mardi Gras themed fundraiser. Here's how the event came to fruition:
My friend Doug—who always cooks the best gumbo in the world at the Crawfish Derby and Oyster Roast—called me one day a few weeks back and said "Hey John, why don't we throw a fundraising party for the Lakeside baseball teams. We could do a Mardi Gras theme. People would dress up and we'd give out beads and make hurricanes for the adults as long as they bring a little rum with them. I'd make a huge pot of chicken and sausage gumbo again. You could smoke some beef briskets. We could rig up that new 4-gallon fryer of yours and fry fish and shrimp so people can eat po-boys. We could make some Cajun cole slaw and vegetarian Mardi Gras pasta. You could set up a cash oyster bar and personally open cold raw oysters for people. It would also be kid-friendly. They could eat (affordably, I might add) and then go play sandlot baseball or other games in the field. I would hand-fry beignets and cover them with powdered sugar for dessert. We could have a wine pull as part of the fundraiser. And I bet you could make a keg magically appear."
So after that phone call, we sprung into action, and did exactly what my friend Doug said we'd do. The fresh-fried beignets at the end of the event were a happy moment for all who were there. 
Over 130 people attended the party, and the dugout club received some awareness about the program and cold hard cash to continue improving the facilities.
Here's what the President of the Lakeside Dugout Club had to say:
"I wanted to add my congratulations and sincere thanks for the Mardi Gras festival on Saturday. Both during the event, and even more so upon further reflection, I thought it was absolutely fantastic. The food was amazing (and everyone I spoke to said the same). I've never had better gumbo or brisket. The decorations and music were perfect. I loved the festive yet casual vibe." — Michael G.
Thank you, Michael, for your compliments. This was a fun event and we hope we have started a yearly tradition.