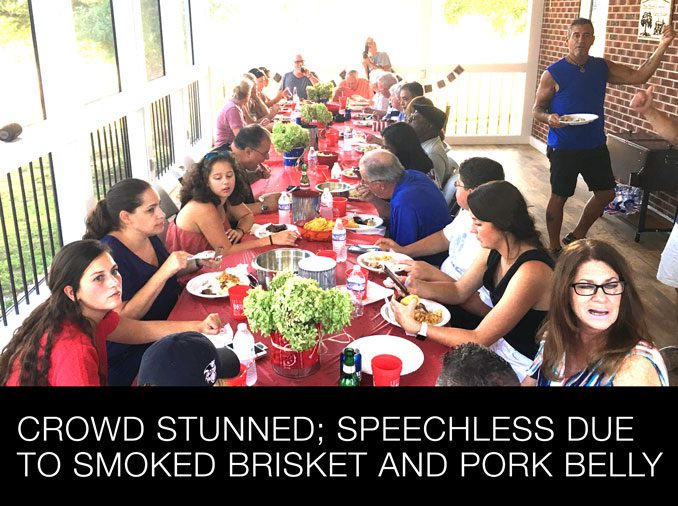 Georgia Smoke BBQ was recently retained to cater a special after-wedding celebration on an idyllic farm in Hartwell, Georgia. People from all over New York City as well as locals attended the event to not only celebrate a marriage, but to sample what Georgia BBQ should taste like.
Menu items included a 65-pound whole pig, roasted and then finished off with the legendary Georgia Smoke flame thrower, Certified Angus Beef brisket, Pork Belly, roasted chicken, loaded tater salad, Georgia cole slaw, and garden-fresh corn and bean salsa salad.
After picking at the pig and stopping by to say hello to me and the pork belly that I'm crisping on-site in a large iron skillet over a hot fire, guests marched inside to also grab a morsel of freshly-sliced beef brisket. One guest said "I can never eat beef brisket again unless it's yours. This is what it's supposed to taste like. You've ruined it for me." Seriously, she said that.
After piling their plates full of meat and sides, the attendees sat at long tables inside the porch to chow down and talk about the brisket and beautiful wedding that had just occurred.
All of the food was cooked fresh-to-order the day of the party and was delivered on-time.
Here's what one of the hosts had to say about the event:
"I Would like to thank John Lenz for a fantastic experience. Our friends from Georgia were planning a Pig roast on their farm in Hartwell as a continuation of their son's wedding celebration. Planning began in May and John was so responsive to our planning. I tell you everything was excellent and John was a pleasure to work with. The food was delicious. Brisket was amazing. Pig was delicious and so moist. The sides were right on point. Cole slaw, loaded potato salad, the corn and bean salad was so fresh and tasty. We had about 35 to 40 guests and more than enough food for all. Anyone looking for an authentic barbecue and pig picking we all highly recommend Georgia Smoke. He arrived early and did everything from set up to clean up. John thanks for giving us all a great memory we will never forget.- Don F"
Thank you for the compliments, Don, and we look forward to doing special event pig roasts like this in the near future.