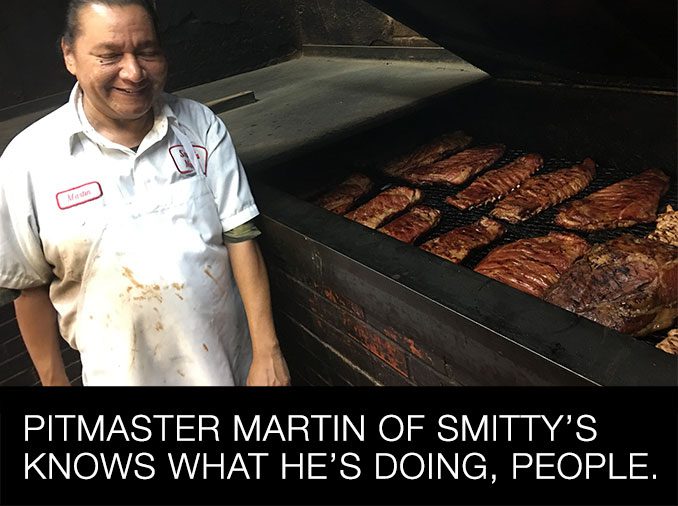 In the late July Texas heat which reached 109 degrees, my brother Richard and I traveled to Austin, Texas—the brisket capital of the world—to gorge upon beef brisket and sausage, and to possibly learn a few tricks of the trade. We were not disappointed. What follows is a review of the trip including a few recommendations and random observations. All barbecue ratings are based on a 10-point scale.
Day One, First Stop: A Pilgrimage to Taylor, Texas to Eat Louie Mueller Barbecue
We arrived in Austin a bit before check-in time at the Hotel San Jose, a beautifully-redesigned old hotel on South Congress street. We were hungry to try the region's food and we drove straight from the airport to Taylor, Texas, pop. 16,857, to eat at Louie Mueller Barbecue.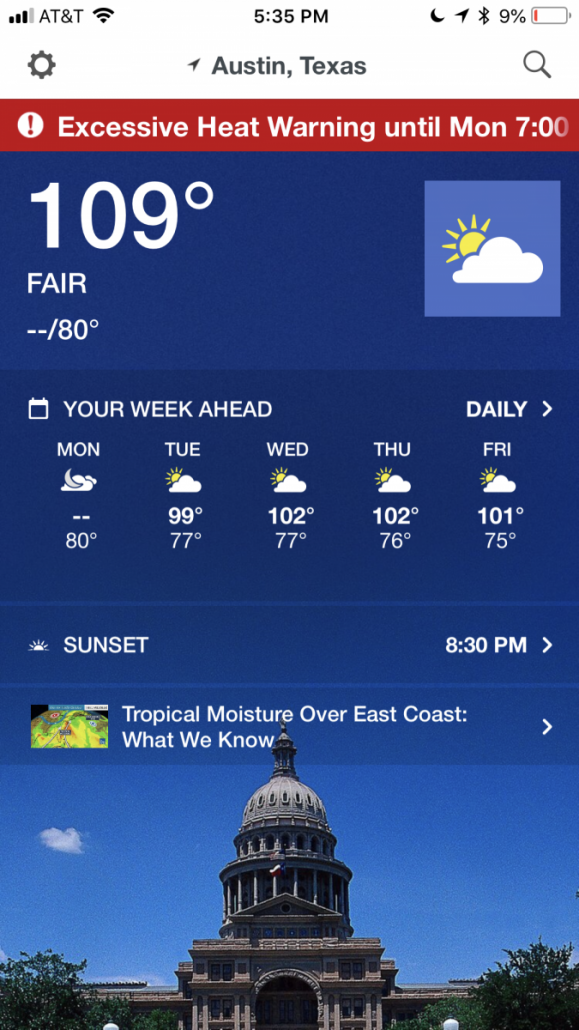 According to their website, Louie Mueller Barbecue has been described as a "cathedral of smoke" due to producing the finest BBQ in Texas since opening its doors in 1949. Founder Louie Mueller handed over the reins to his son Bobby in 1974, who ran the smoker for over three decades before his son (third generation owner/pitmaster) Wayne Mueller took control in 2007.  It was also around this time that they were honored by the James Beard Foundation with an American Classics award.
As Richard and I walked in, we were enveloped with the sweet smell of smoke and a distinct feeling of traveling back in time. The cold Lone Star Beer was surrounded by ice in a self-serve white cooler on the left, and straight ahead was the counter where we placed our order. Mouths watering, we ordered a pound of brisket to share as well as Hatch green chile sausage.
As we received our food after a short wait, we walked into a separate room with picnic tables set up. This room had fans going; not sure if the air conditioning could keep up. We sat down, popped open a couple cold Lone Star beers, and began to eat with our hands, as is custom.
The brisket had good flavor, but was a little dry. We ended up rating it a 6.75. The dryness was improved with the thin dipping sauce it came with. They also provided white bread slices and pickles on the side which was a nice touch.
The Hatch green chile sausage tasted fantastic; though we both felt like it could have been cooked some more. Not knowing custom, we didn't know if this is how "Texas Sausage" was meant to be, i.e. as moist as it was. It turned out to have been the best-flavored but worst-cooked sausage on the trip. We rated the sausage 9 out of 10 on flavor, with a cook rating of 6.
After our meal, we asked the very nice pitmaster for a tour of how they smoke their meat. We were pleased that she said to "come on back" and get a look for ourselves. The pit had an open fire going, with a brick enclosure leading to a chimney. The brick enclosure is where they smoke the meat. They used primarily post oak in the fire, as it lends a good smoke without some of the aftertaste of other oaks. This was truly a treat.
It was a great, authentic way to start our sojourn.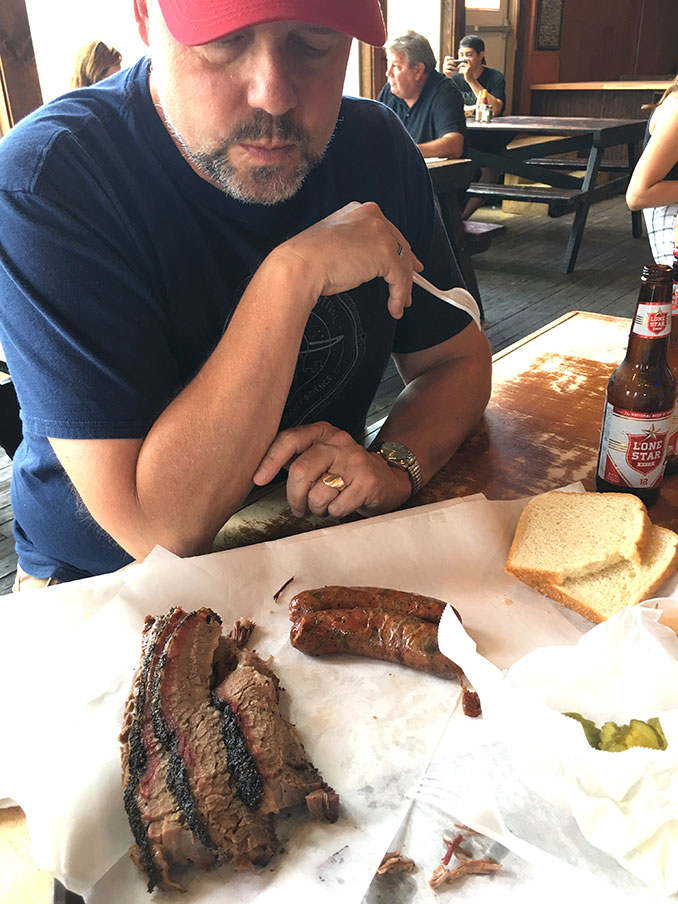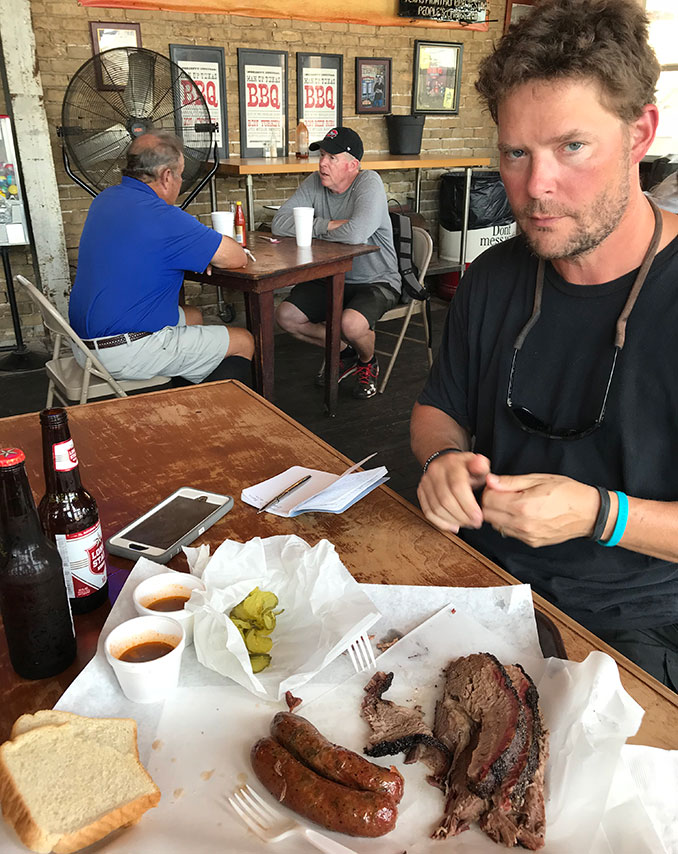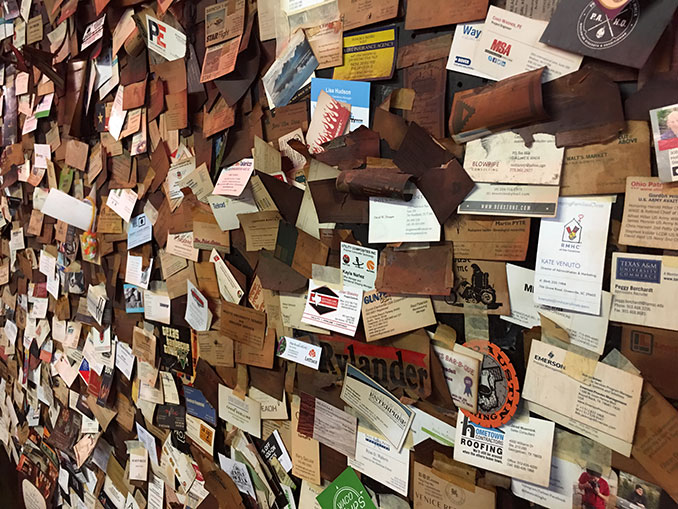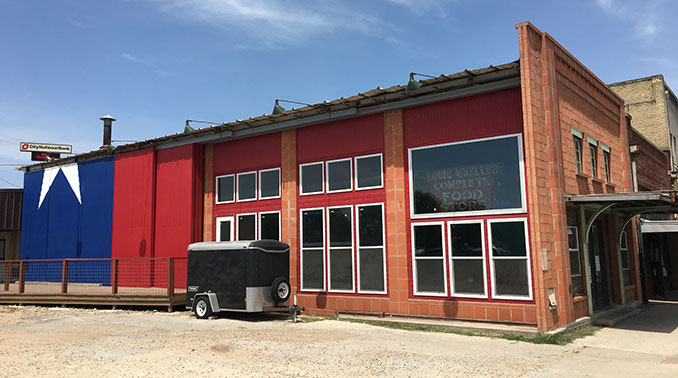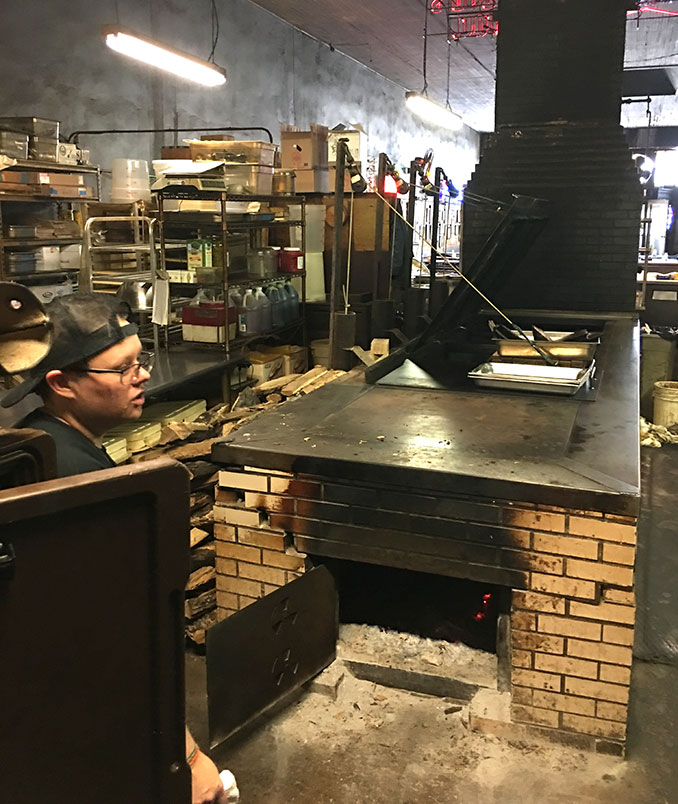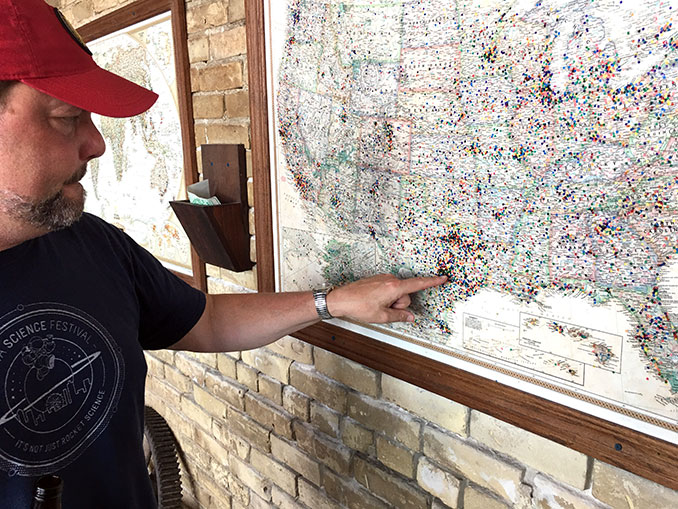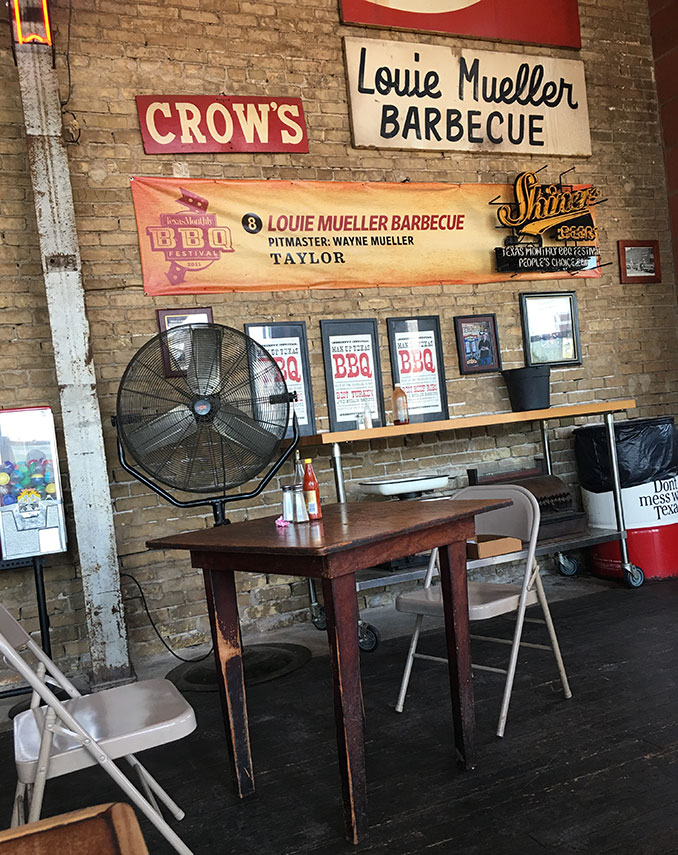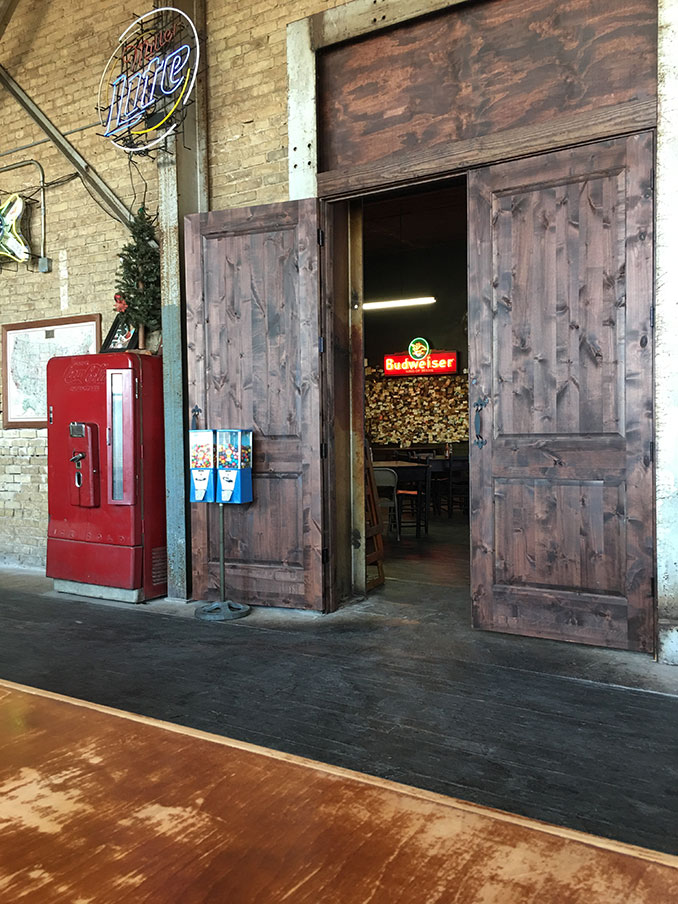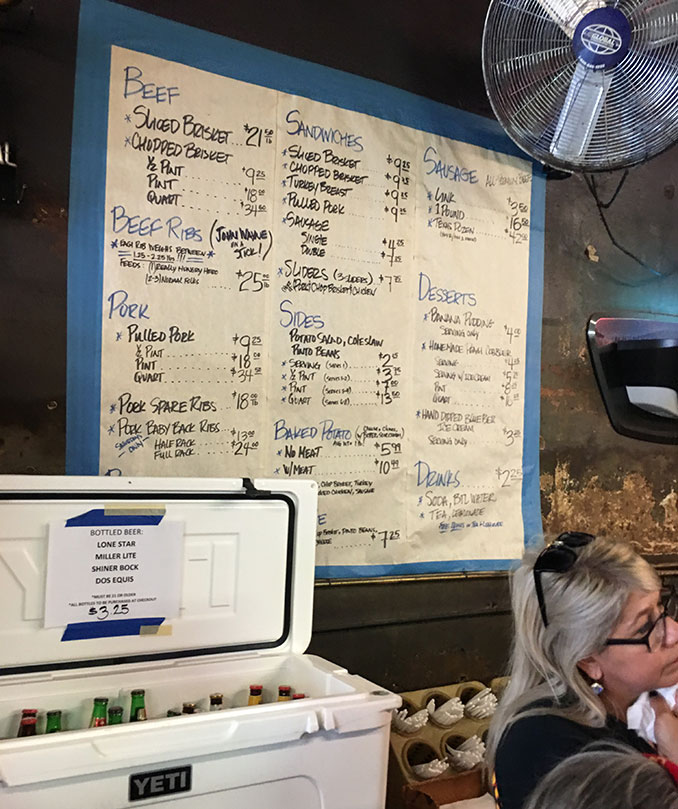 ---
Next Stop: Ed's Place
After gorging on brisket and sausage, we wandered outside in the bright sun and heat to see if there was anything else to see nearby. And boy did we see it: Ed's Place.
Ed's Place is an old-timey bar that serves great cheeseburgers. We had to take them at their word on that as we were stuffed from our meal five minutes before. However, they did have ample supply of cold Lone Star Beer, so we sampled one and soaked up the ambiance of the place. Everyone was friendly and seemed familiar in here, and we could have stayed longer but it was time to go check in our hotel rooms in Austin.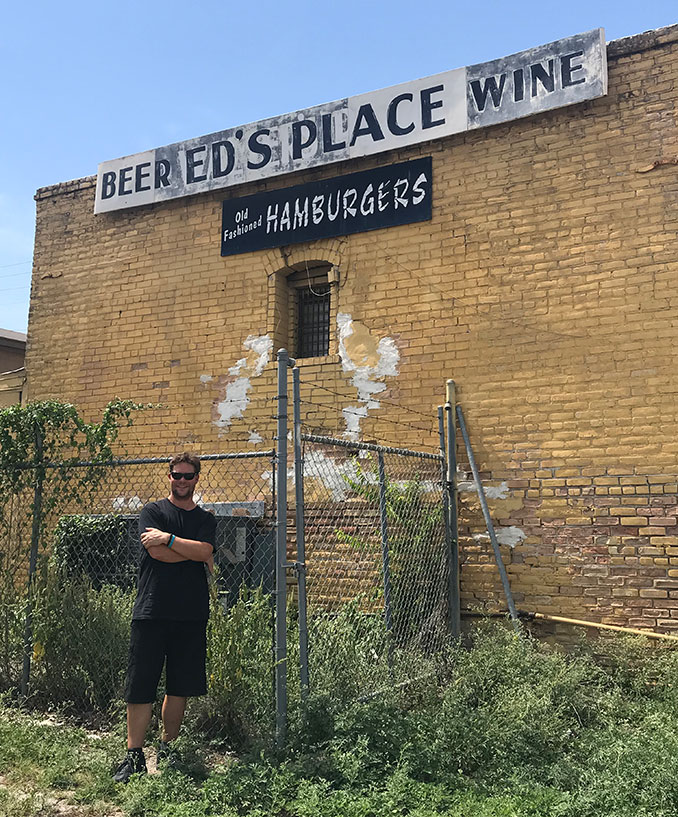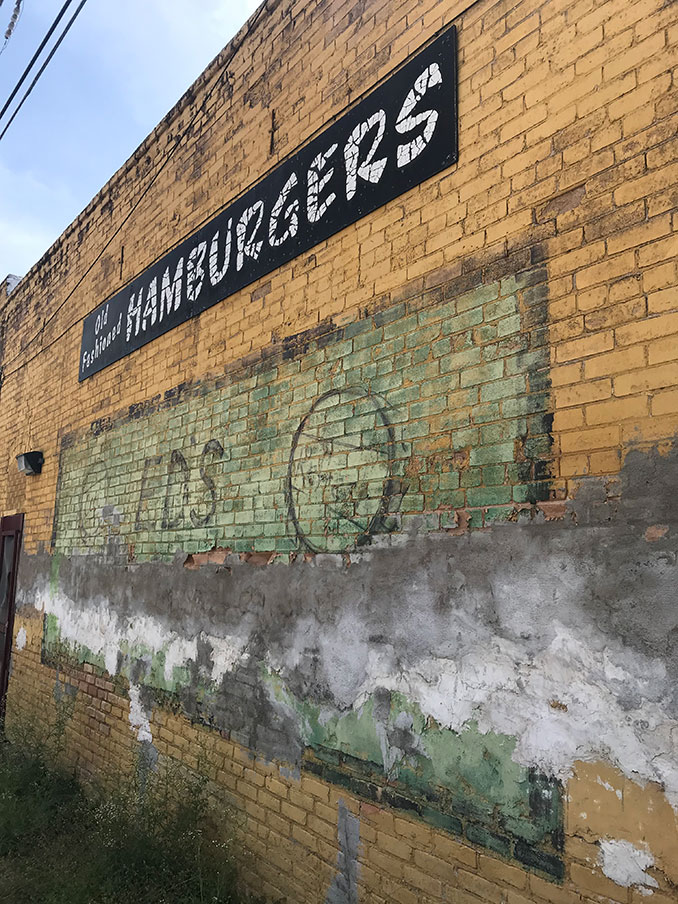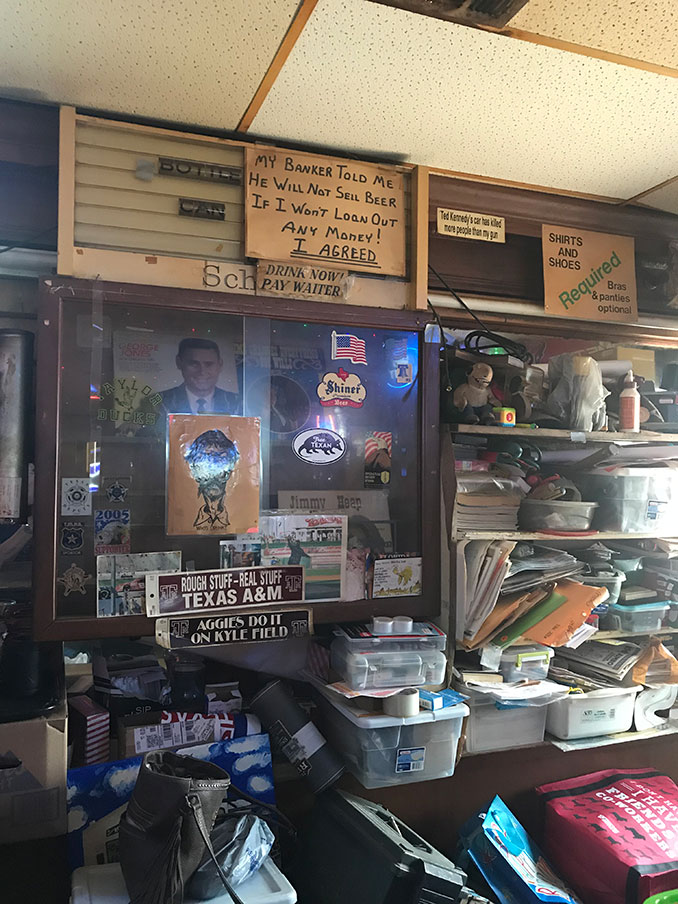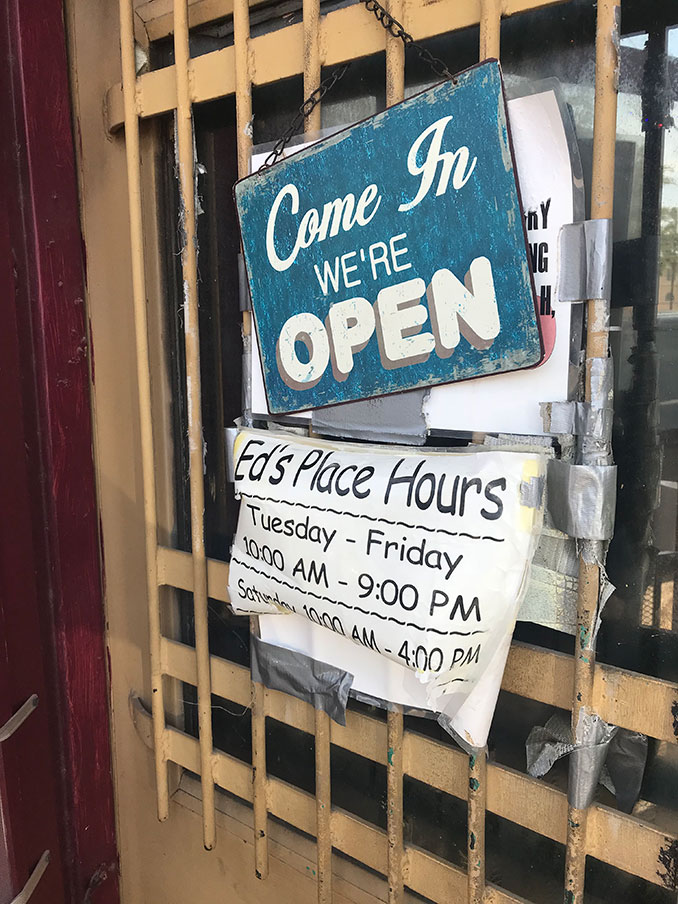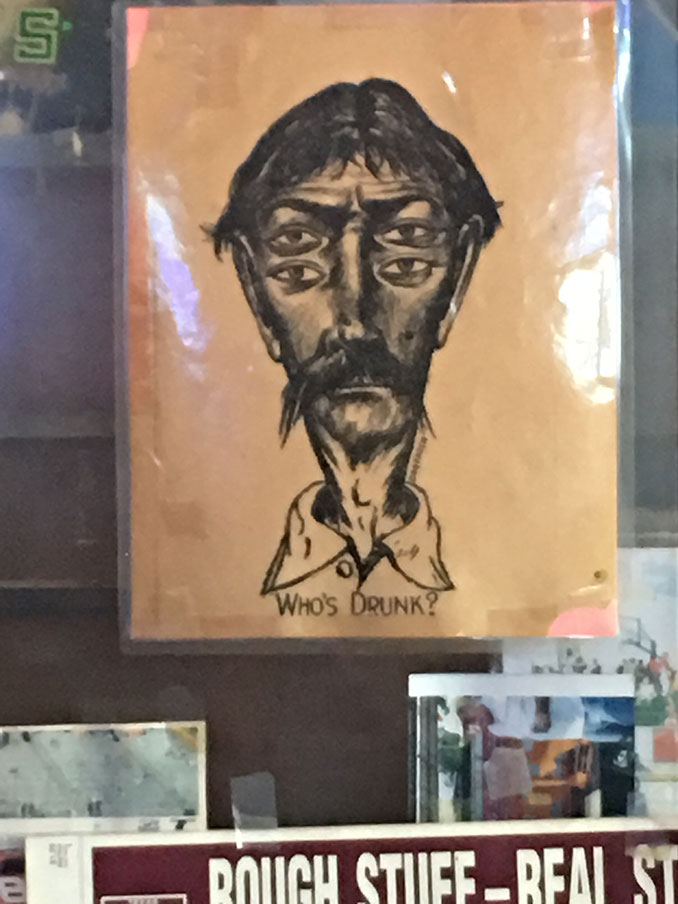 ---
Next Stop: Hotel San Jose
After parking the car and gathering our bags and barbecue bibles, we sauntered into the Hotel San Jose, which is street-level on South Congress. This place is almost magical: The landscaping and visual design of every element seemed to be perfectly planned. Check-in was smooth, and we retreated to our respective rooms to clean up and get ready for the evening.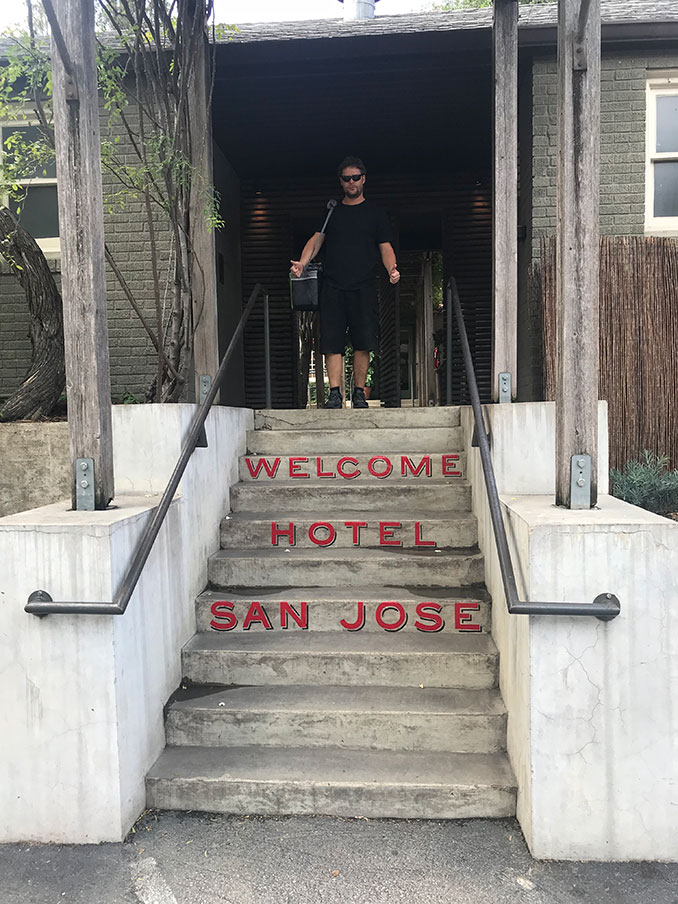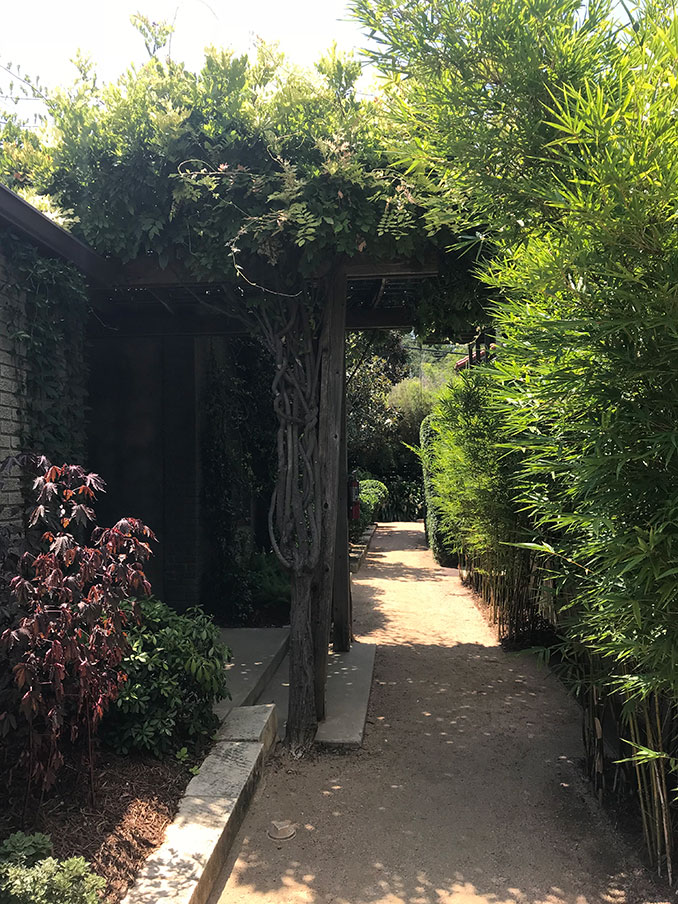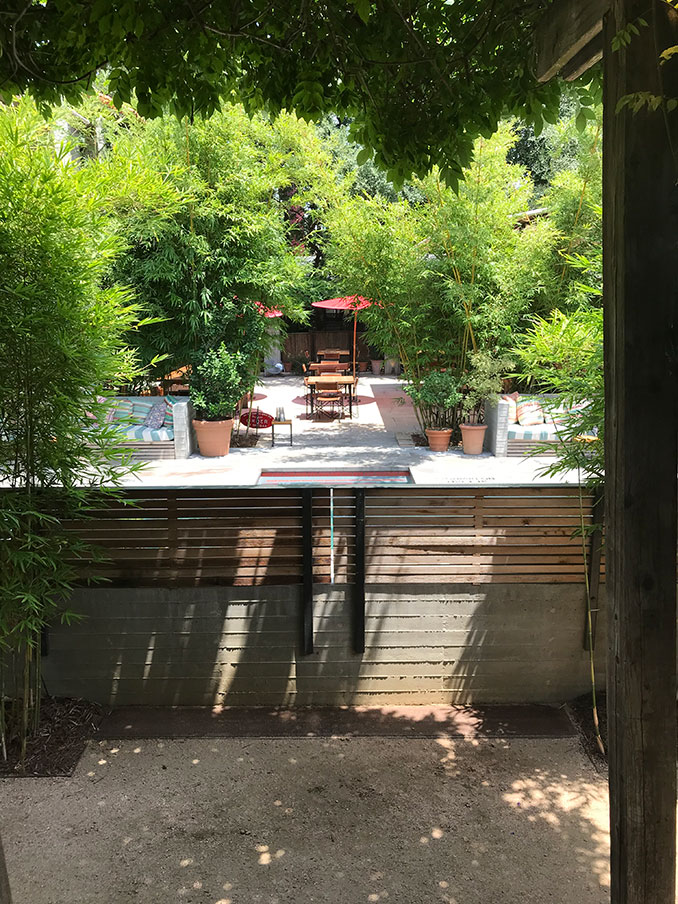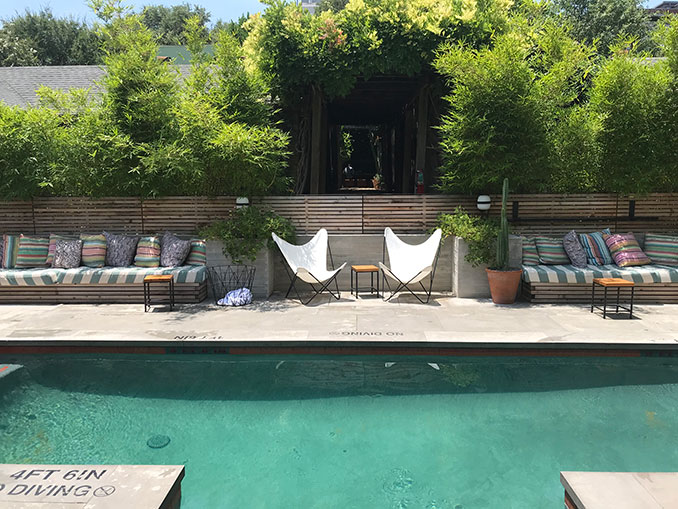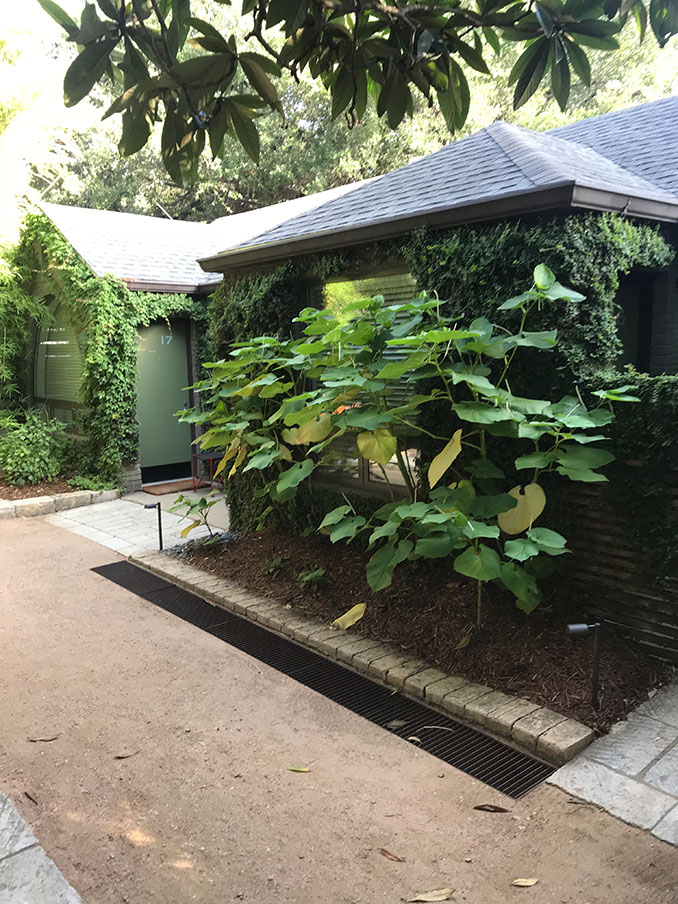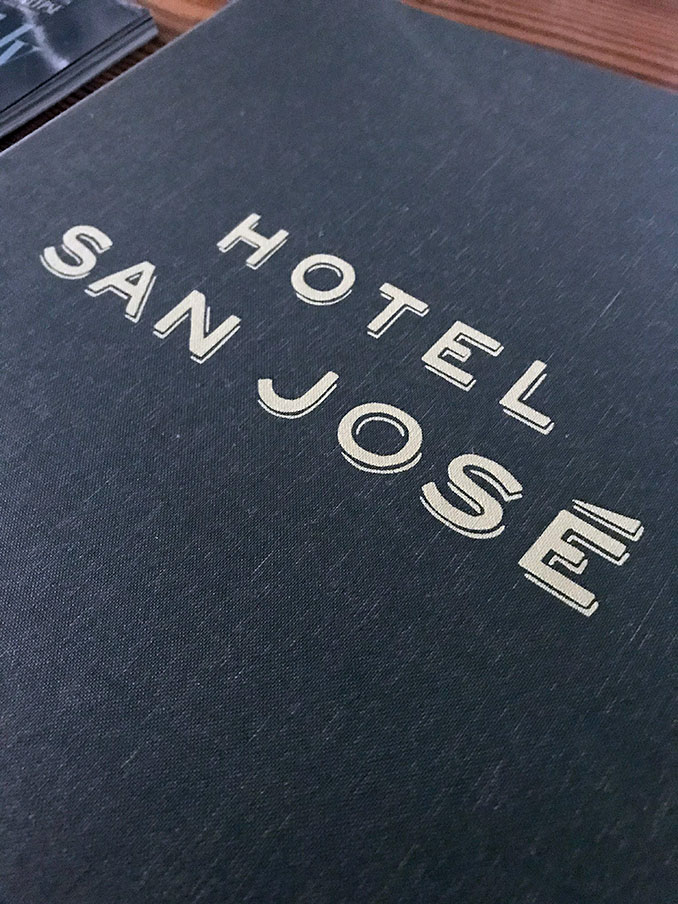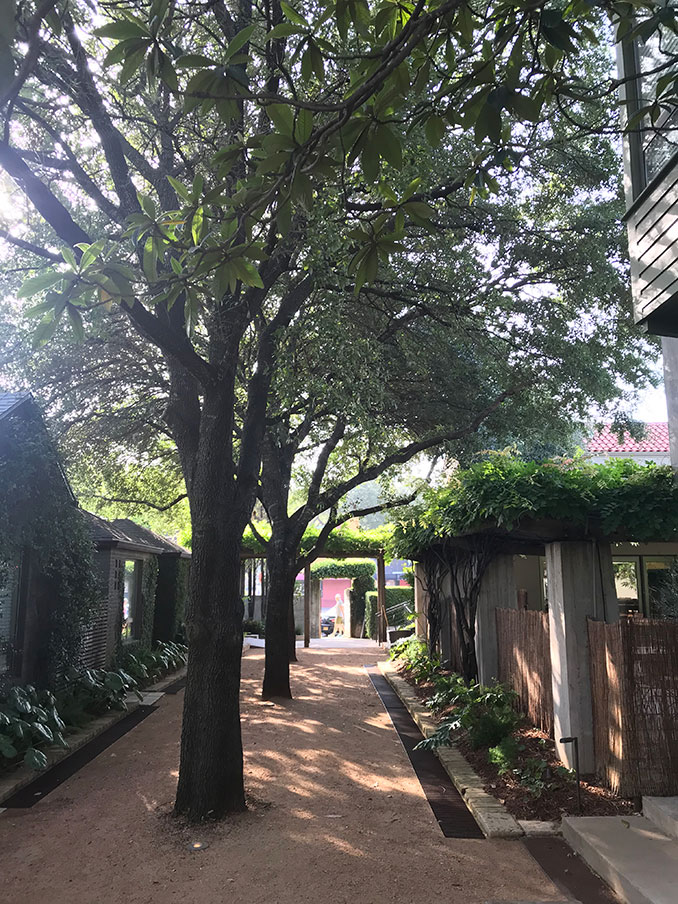 ---
Next Stop: Güero's Taco Bar + Oak Garden
Richard and I wanted a light bite to eat and to listen to some live music. We found it a few blocks south up the hill to Güero's Taco Bar + Oak Garden. As we walked into the garden area, water was misting to help the patrons keep cool. There was a small food "stand" inside the garden on the left, and two men worked the stand professionally. Service was quick—it was a grab-and-go sit down type of place, so I grabbed a taco and a Shiner Bock and sat down next to the stage with my brother.
The band was playing Cajun-themed music, and we enjoyed the huge oaks and shade while consuming tacos and beer, all the while being kept cool with fans and misters. This place was relaxing and fun. I wanted to go back a few times after this, but our agenda was full and we wanted some variety.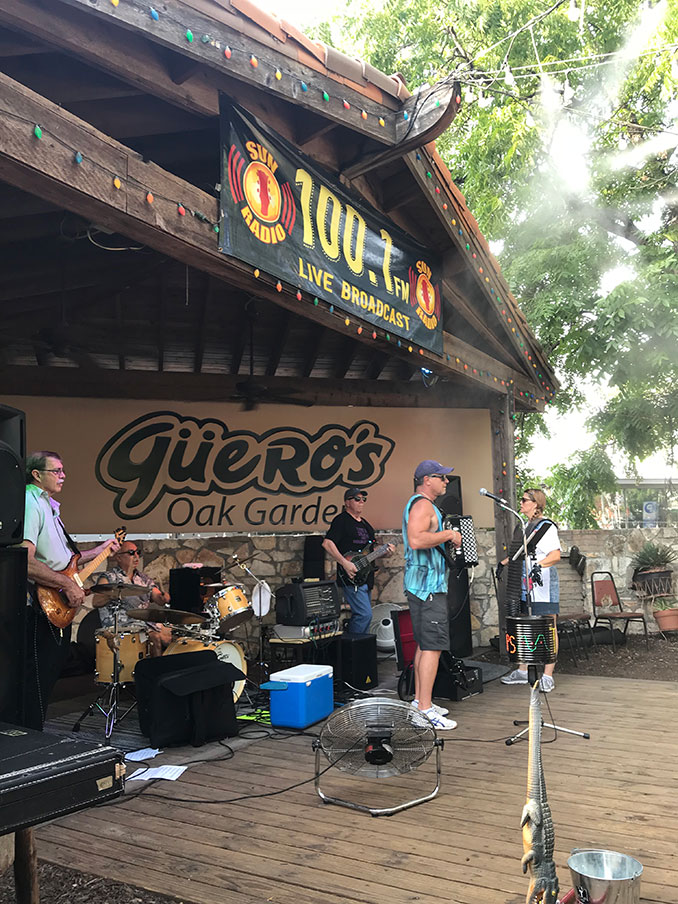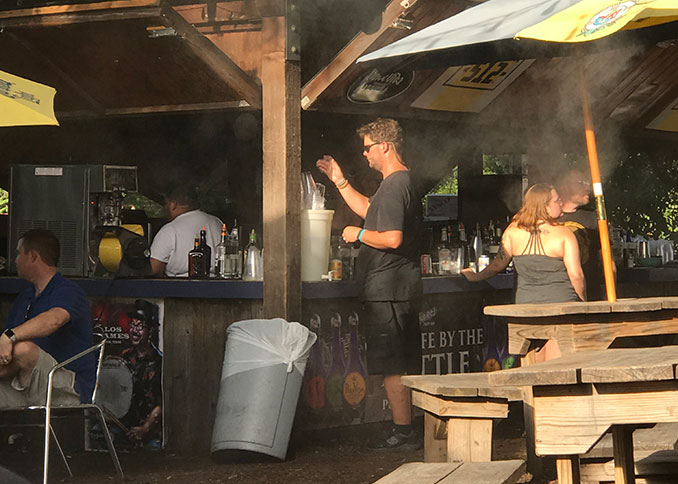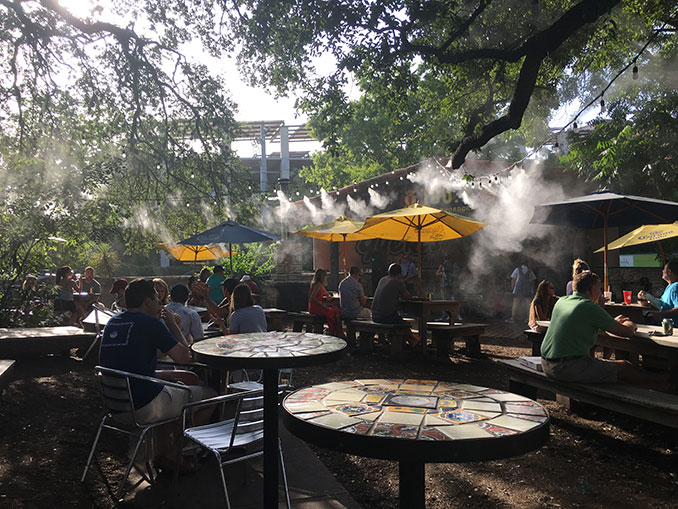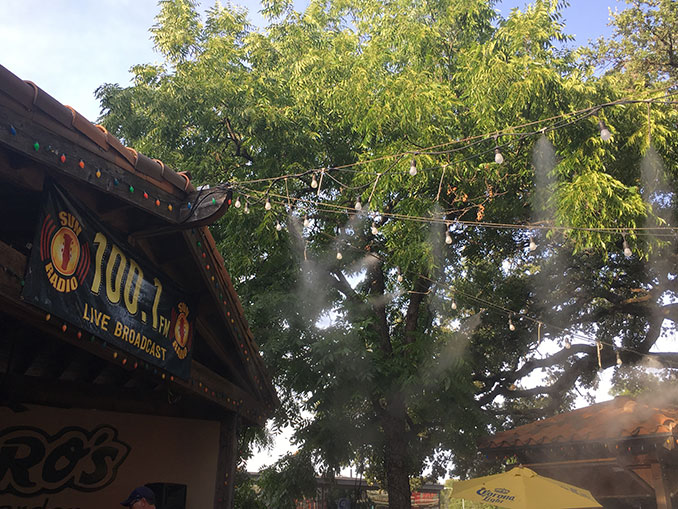 ---
Next Stop: Ego's Bar
Since we had not had enough beer, we walked down South Congress to one of the strangest places I've ever been: Ego's Bar. The inside of the bar was great; it's the location that was strange: under a building inside a parking garage. At the time we visited, it had been open 39 years. They are evidently doing something right.
The highlight of this place was the cold Lone Star beer and karaoke. I watched some of the most insane people try to sing. They had more cajones than I do to get up on that stage. What a trip.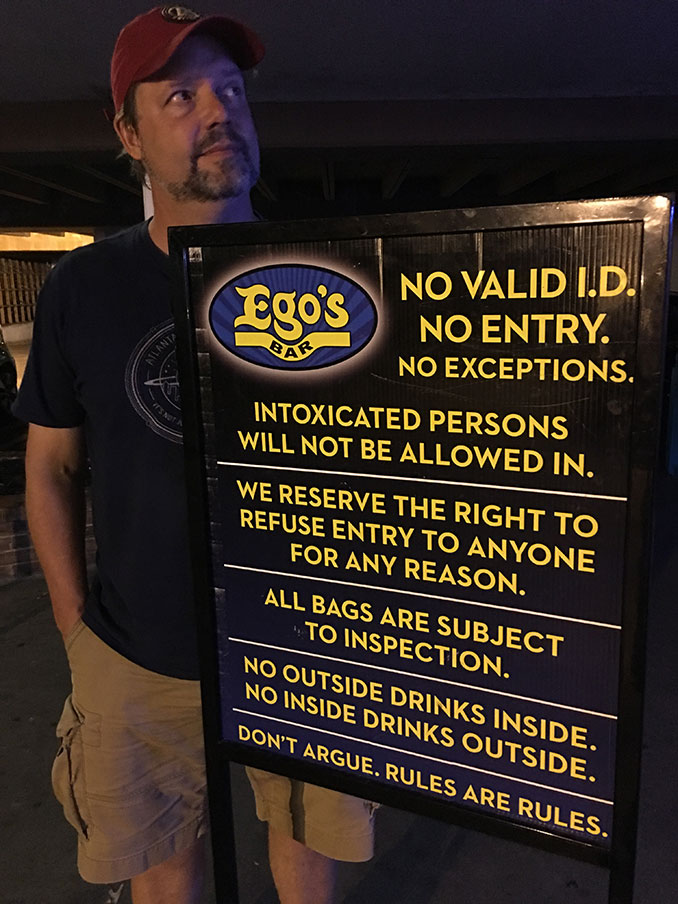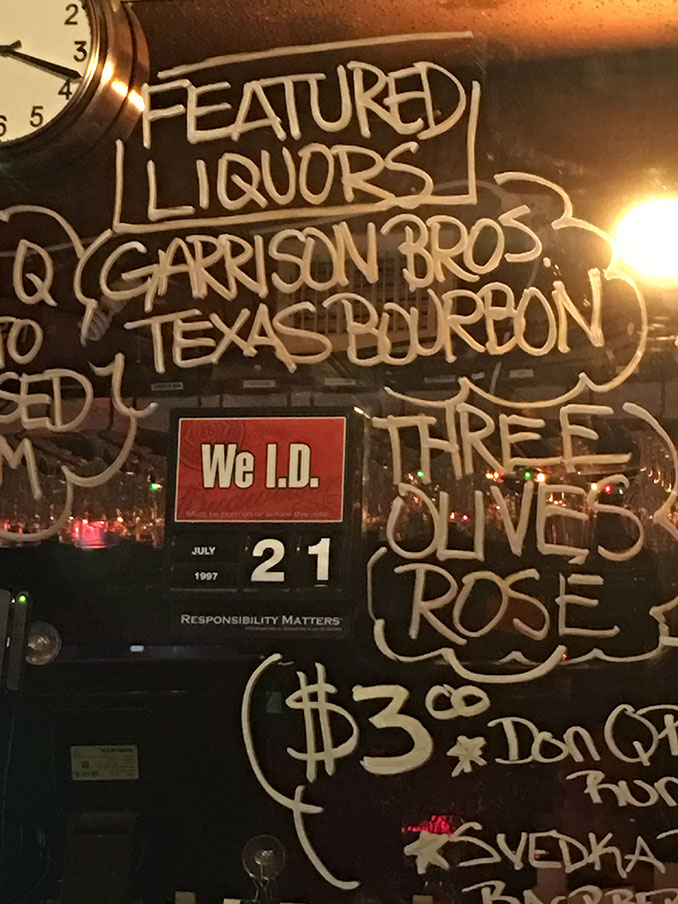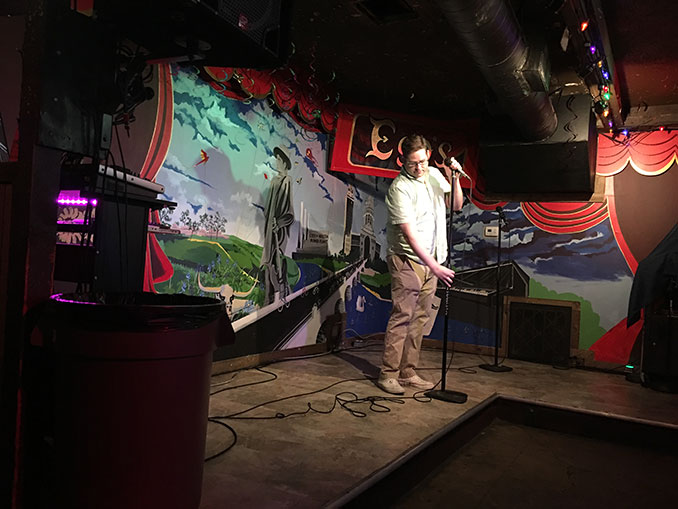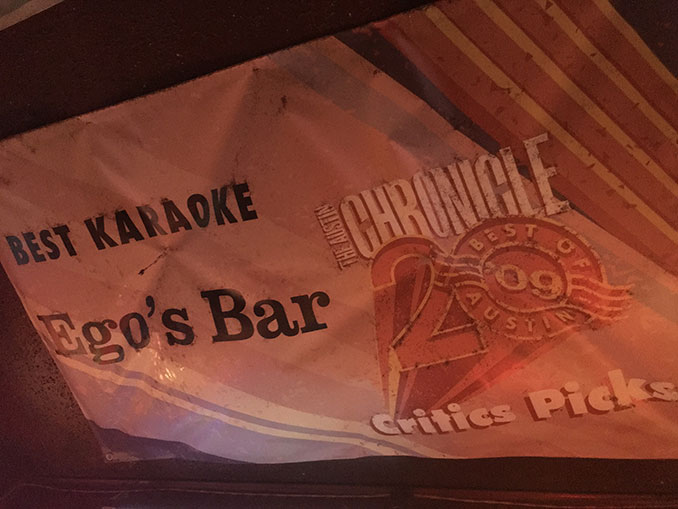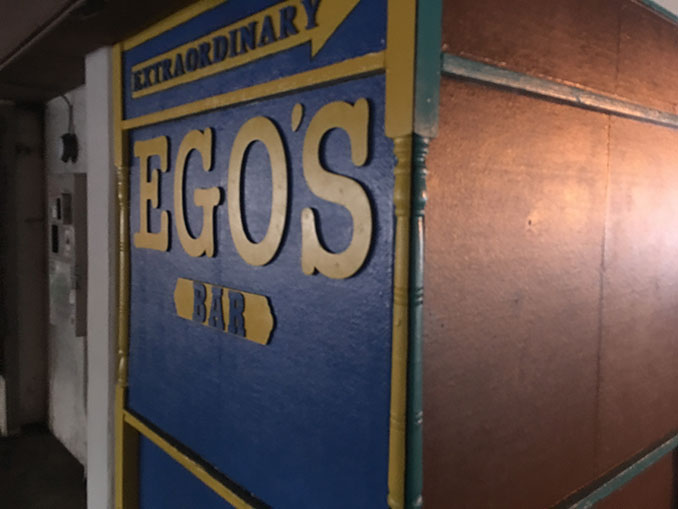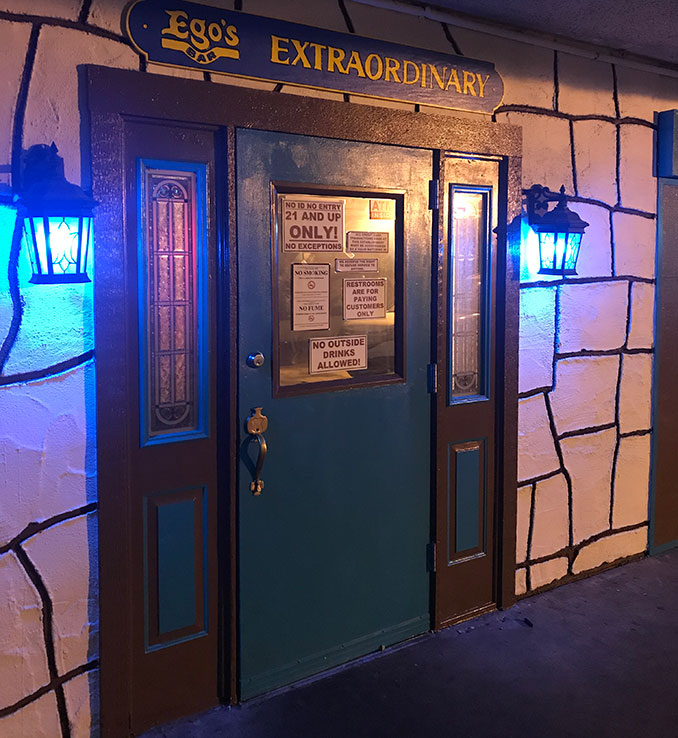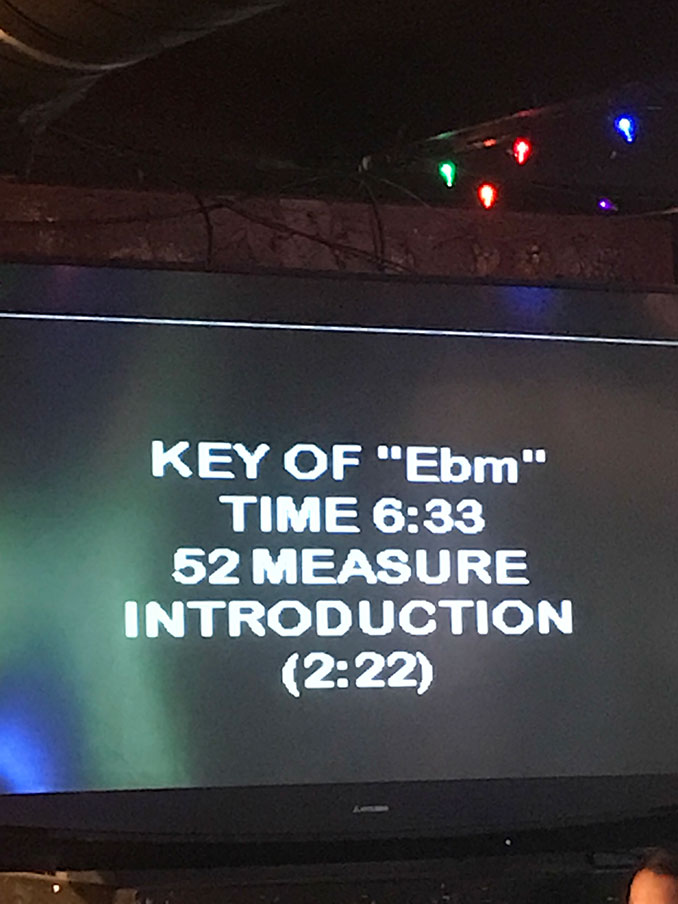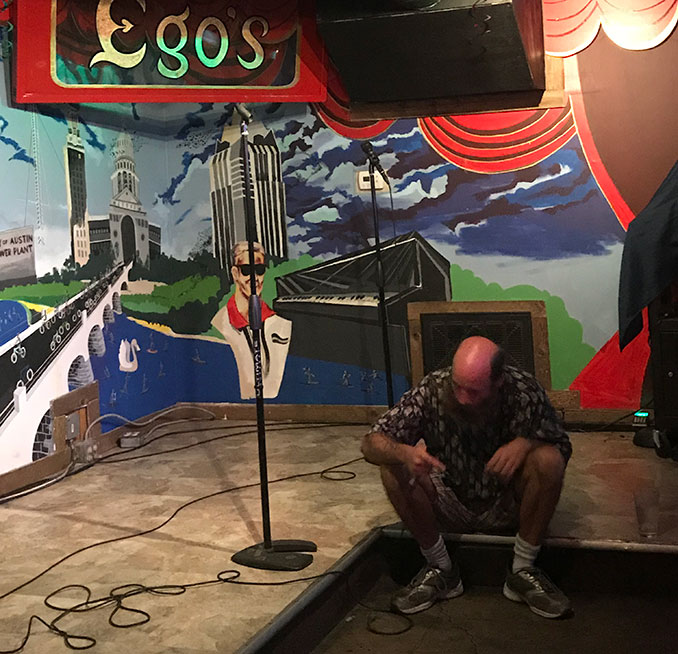 ---
Next Stop: Threadgills
Since we had not had enough beer and music, we walked over to Threadgill's to listen to some live music and have one more Lone Star beer. I am so glad we powered through to be able to do this. We stayed outside, buffeted with a soothing breeze, near a stage that had a memorable band playing, near a stand of cold cans of Lone Star beer. So lucky to have made this stop. What's not to love about Threadgill's?
The name of the band that was playing at Threadgill's that night is the Talking Heads tribute band Heartbyrne.
Heartbyrne almost does Talking Heads better than the Talking Heads. If you have a chance to go see them I highly recommend eating a lot of barbecue brisket, then going to several bars, listening to karaoke, then going to see this band.
The energy was all positive and I had plenty of room to dance without a bunch of jerks getting in my space. I need my space, as well as dance lessons, but that's another topic. The backup singing ladies were a highlight. Such energy and delight. I could have danced all night.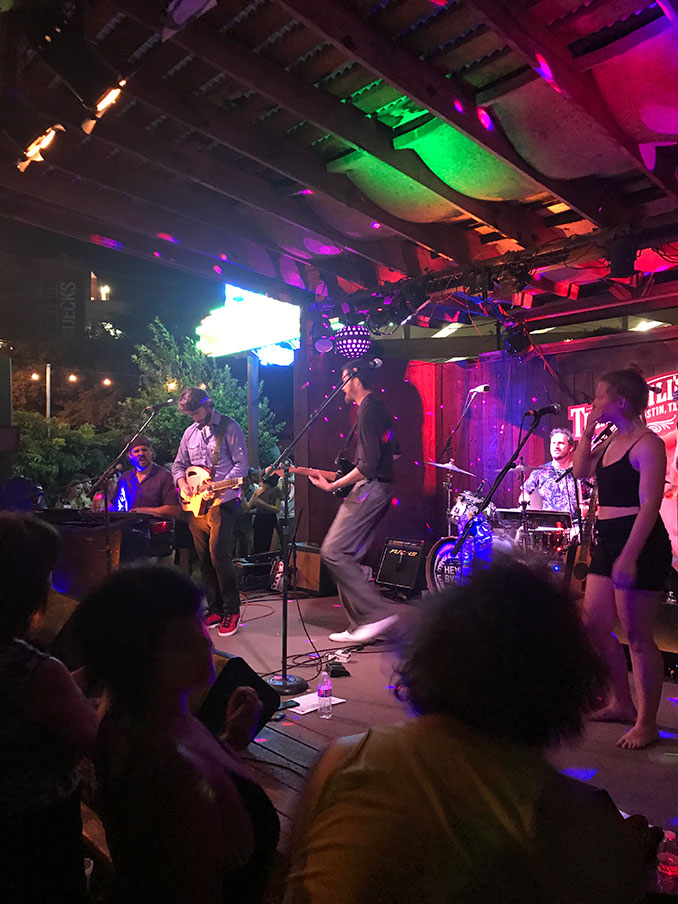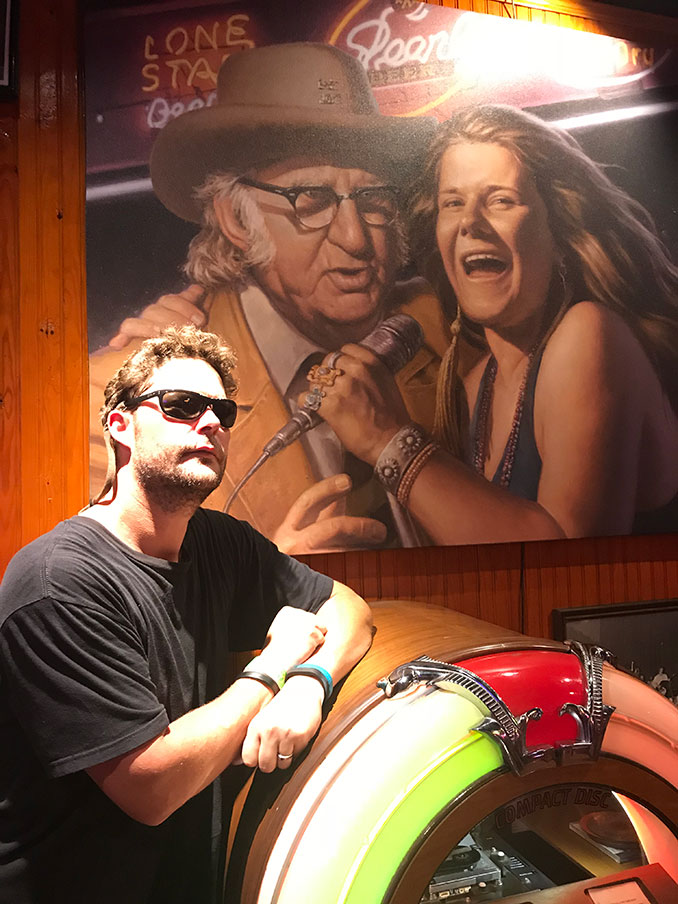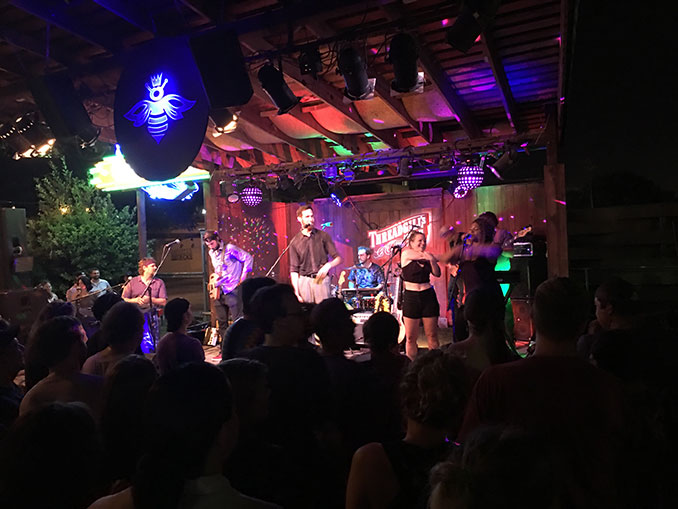 ---
Day Two, First Stop: A Pilgrimage to Lockhart, Texas to eat Barbecue at Smitty's Market
As we jumped in the blue Maxima to head toward Lockhart, I couldn't stop wondering if the sausage I had yesterday was really "Texas Style" i.e., did they always (under)cook Texas sausage? Or did they cook it the way I like it? Smitty's Market would end up answering my questions, giving me all I needed to know.
As my brother and I walked into the market, it was hot as hell, and my legs felt like they were slowly catching on fire as my mouth was watering. Why? This place has an abundance of smoker square footage for cooking briskets and sausages, and they are fired only by what some people would call multiple "campfires" burning in depressions in the concrete floor.
The line for barbecue snaked near one of these campfires, and the line moved fairly slowly, so I spent a lot of time near flames when the ambient temperature was 100 plus degrees. If you need your leg hair removed go to Smitty's and wait in line.
Soon we would learn that the 20-minute wait was worth it. The attached pictures tell a better story of the setup; let's just say that this place is legit. As legit as it gets. It approximates what I'd want to do if I opened a retail location.
According to their website, Smitty's Barbecue got its start as Kreuz Market: "Smitty purchased Kreuz Market in downtown Lockhart in 1948. Thirty years later, in 1978, he added additional dining space by acquiring the 1906 dry goods store next door. In 1999, Nina Schmidt Sells, his daughter, established Smitty's Market in the building that housed her father's Kreuz Market for more than 50 years, while her brother, Rick, moved Kreuz Market to a nice new location down the road."
Thank the lord for Smitty's, because we had found what we were looking for: Great, authentic, Texas barbecue. We ordered a pound of brisket and several jalapeño sausages to split while eating with only our hands once again.
The brisket had an excellent smoke flavor to it, and was cooked to perfection. The bark was just the right flavor and texture. The seasoning spot on. As we masticated the brisket, we didn't talk. We savored the experience. Once done, we agreed that Smitty's brisket was the best that we had had, and that it scored a 9.25. However, we still had jalapeño sausage to eat. Thankfully.
Smitty's sausage was the best of the trip. One bite through the casing and it was elegantly spicy with a flood of black pepper flavor on top of jalapeño spice that I love. This was not only the best sausage of the trip, it was the best sausage I've ever had. And let me tell you, I've had a lot of sausage in my day. I give the sausage a 9.85 and Richard gave it a 9.25.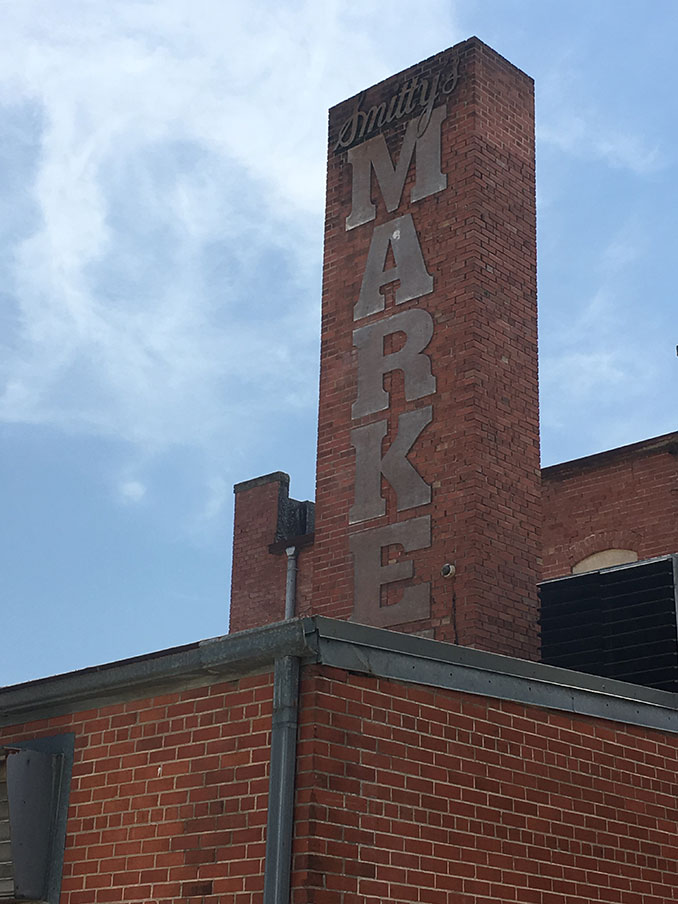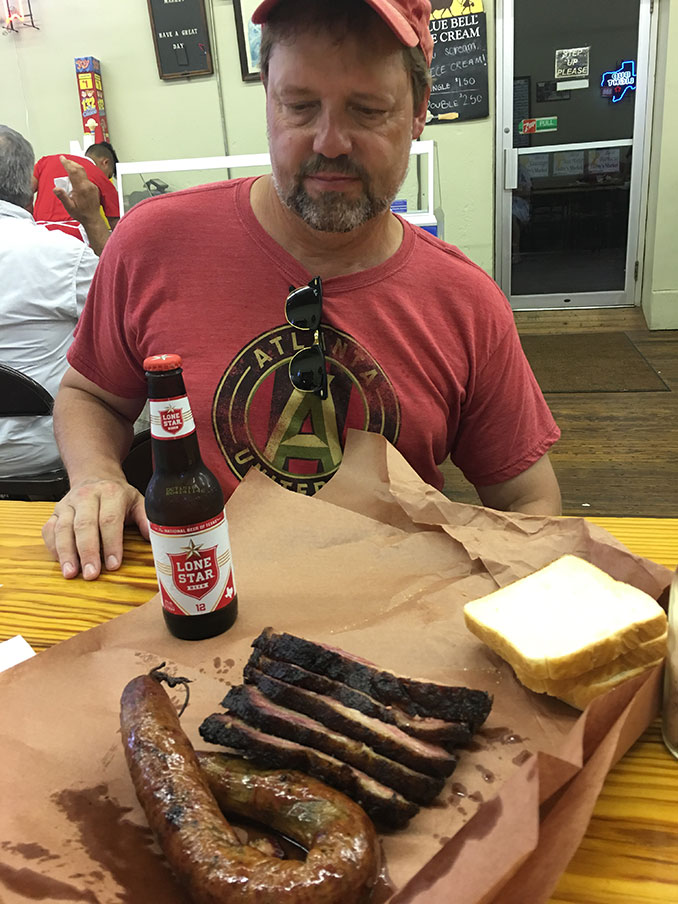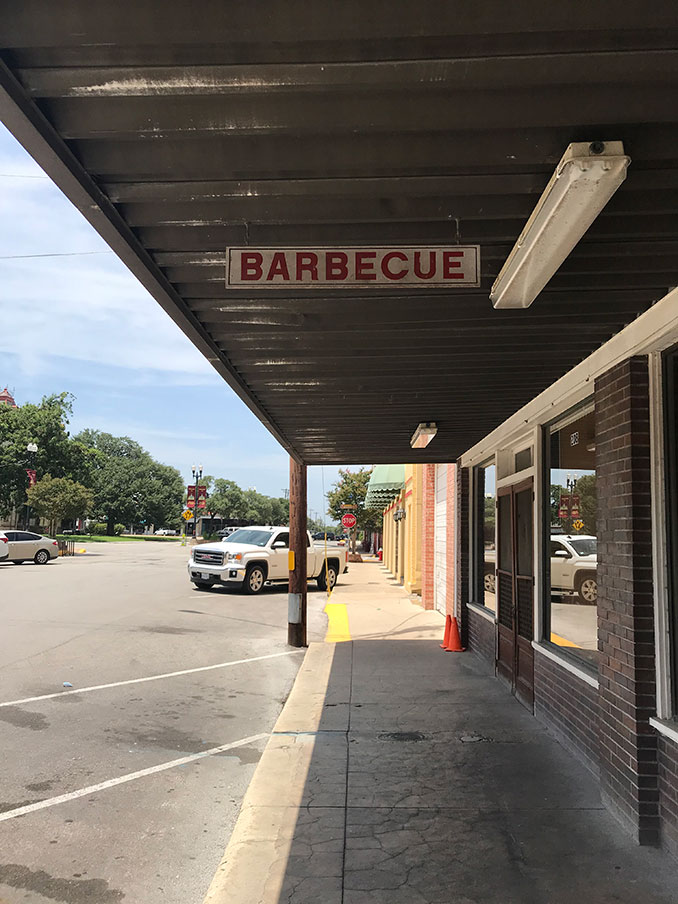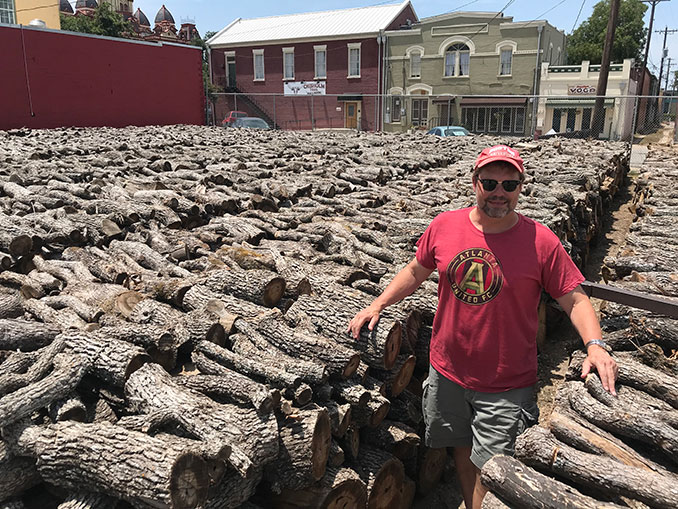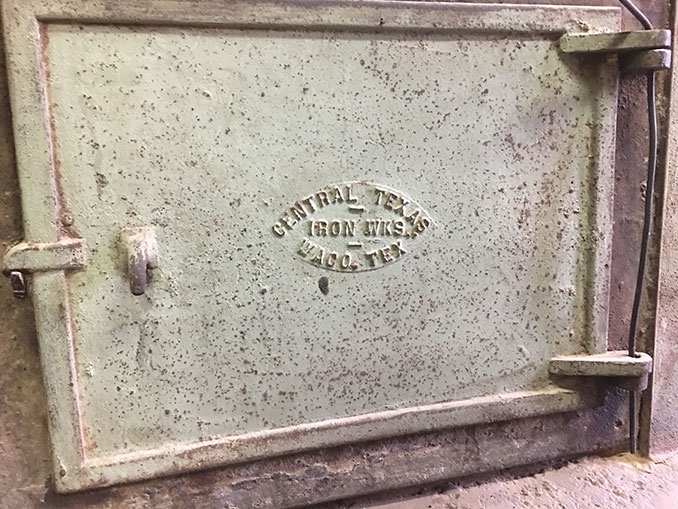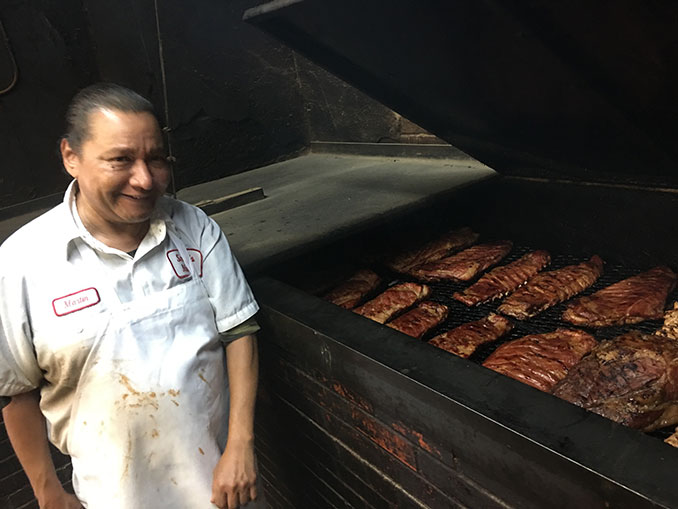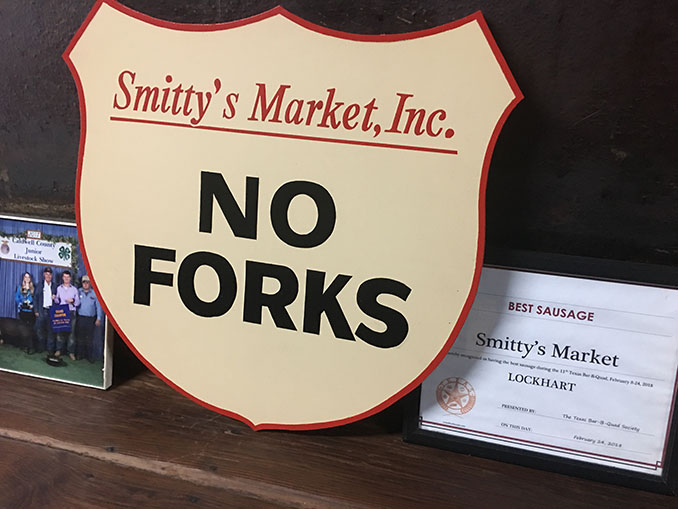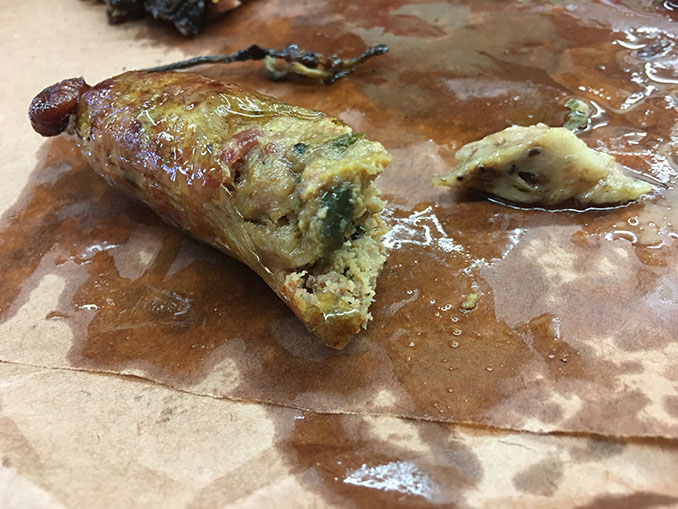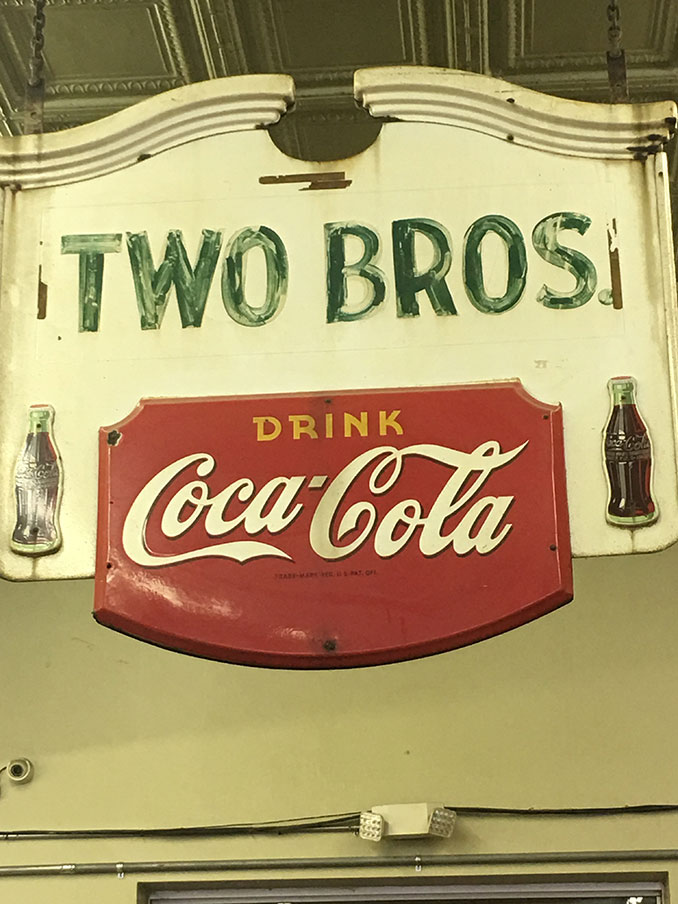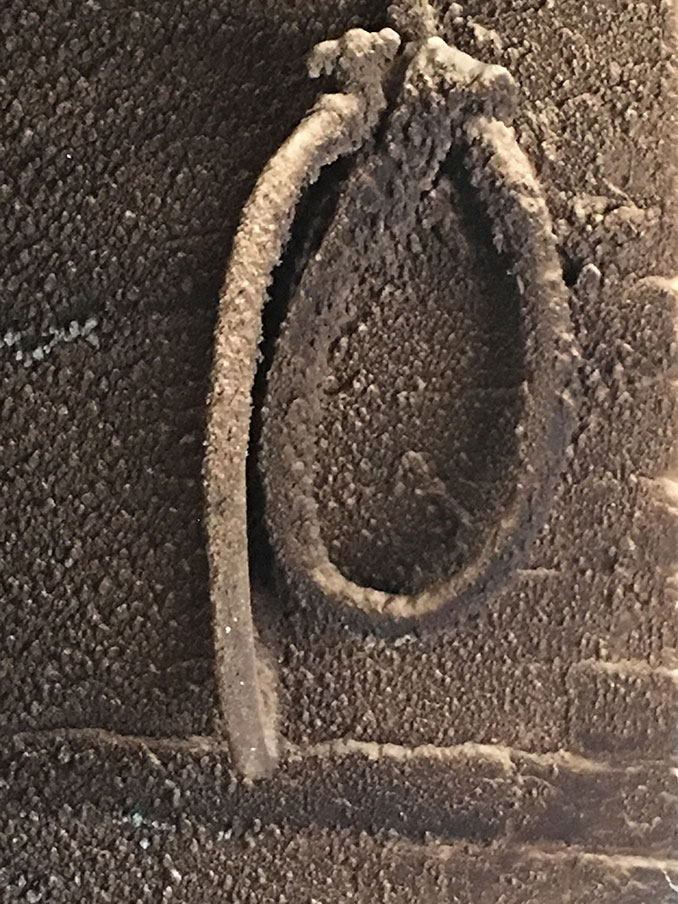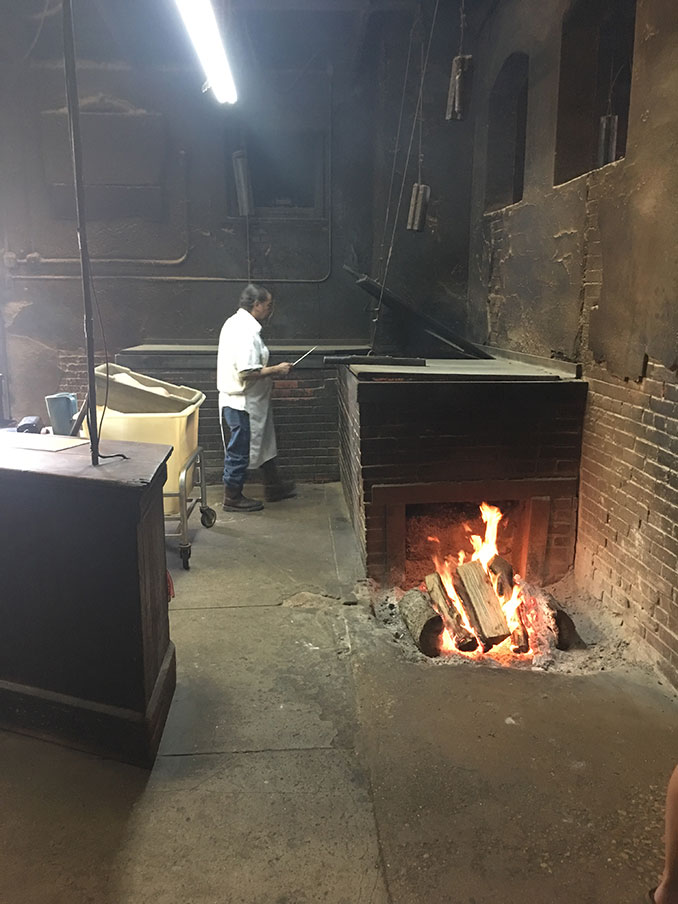 ---
Next Stop: Clark's Oyster Bar
What's Austin known for other than barbecue? Not oysters, but we were on a mission to go to this place. First of all, we have a nephew named Clark. Secondly, after a couple days of brisket and sausage, you need to have some meat fiber for healthy digestion. Oysters fit this bill.
Service at Clark's Oyster Bar was too slow until they realized we were pretty damn serious about our oysters, as we requested to belly up to the oyster bar when two seats became available. Richard had a nicely-balanced glass of cabernet, while I infused myself with a chilled draft Anchor Steam. Both were proper choices to nurse as we watched the oyster shucker lady prepare our order. Both were also proper choices to nurse as we ate the oysters. By nurse I mean consume at a fairly rapid pace. Oysters were good, fairly cold, and shucked well. We split two dozen as I longingly looked for some vegetable fiber on the menu.
We settled on roasted brussels sprouts after I made sure that they weren't charging us a ton of money for three little halves. The brussels sprouts ended up being a smart choice and worth the price. A little too fancy but taste was solid.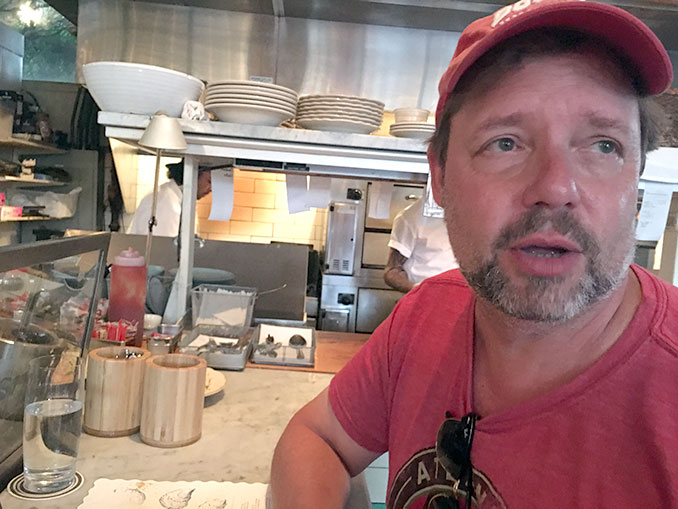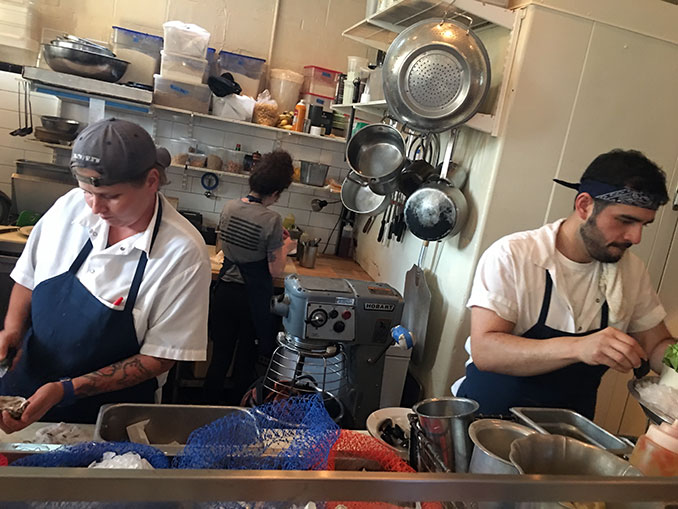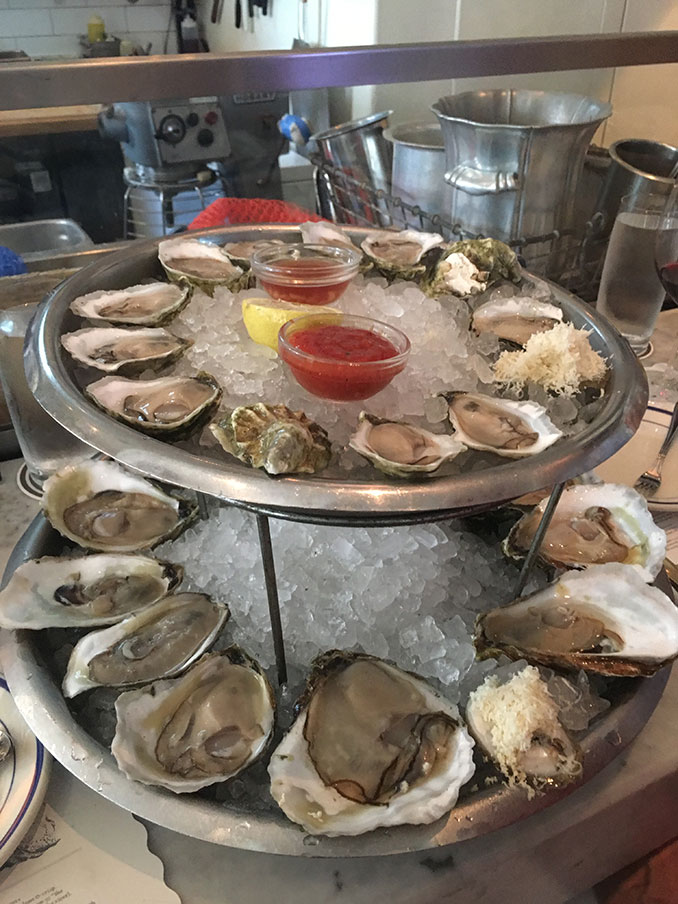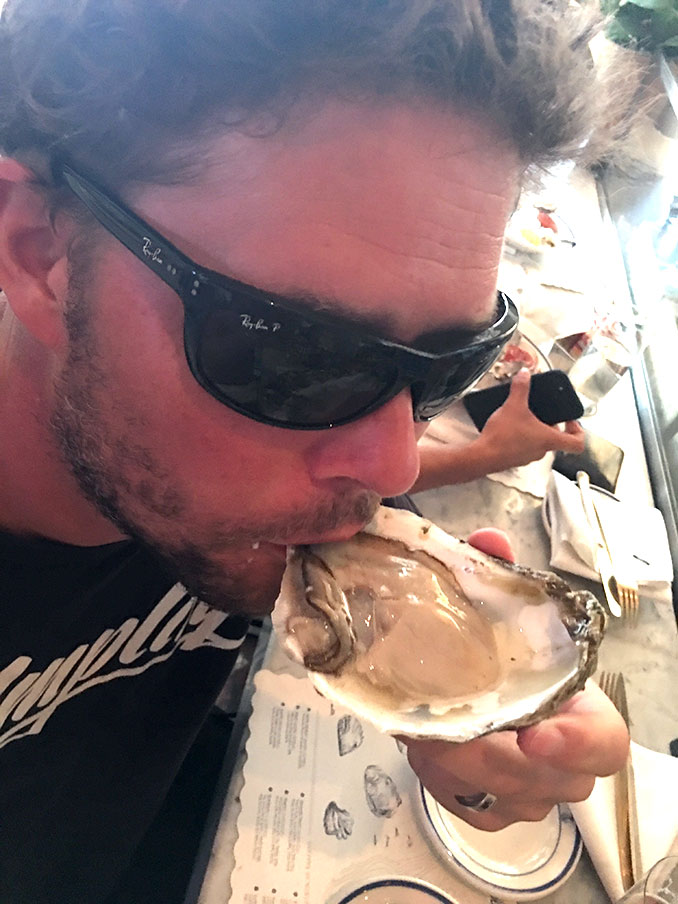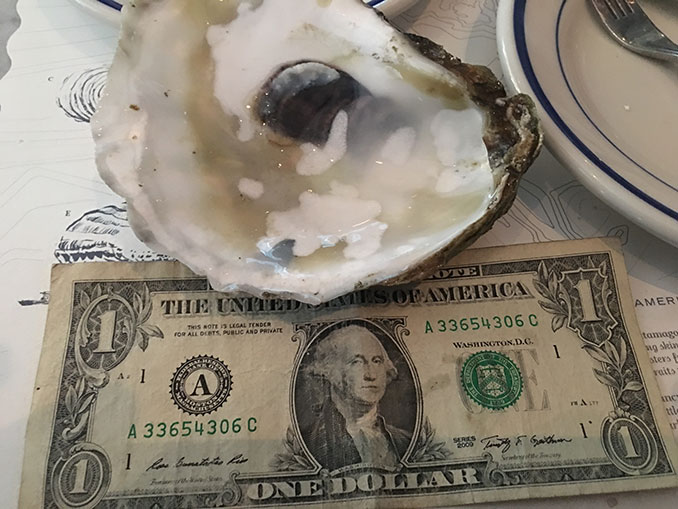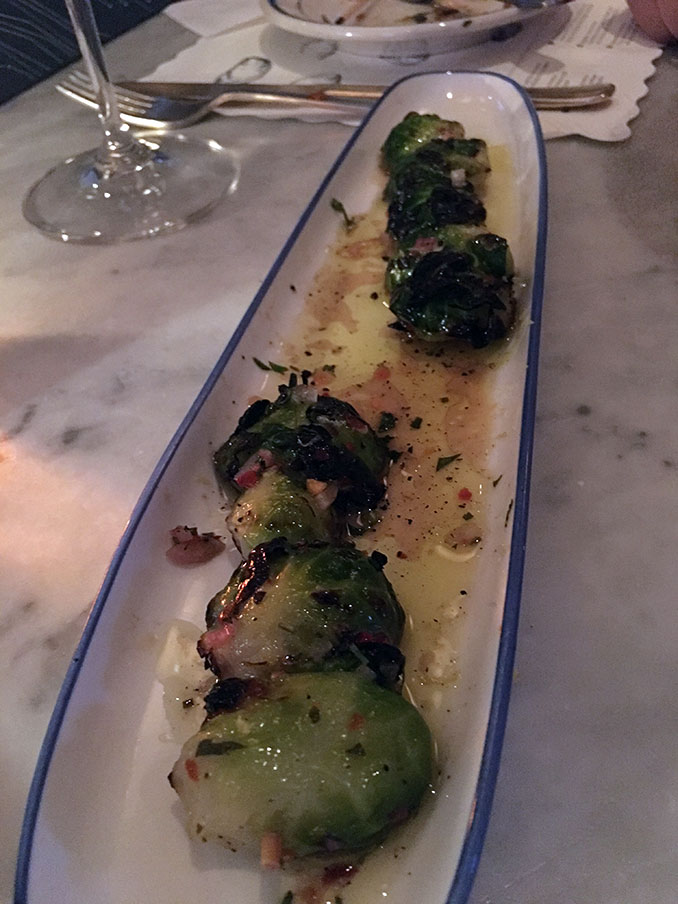 ---
Day Three, First Stop: A Pilgrimage to Elgin, Texas to eat Sausage at Southside Market
We had read that the sausage was great here at Southside Market. What I didn't know going into the experience is how much I would be craving a salad, even after a brussels sprouts infusion the night before. I ordered a meager amount of sausage, as well as two side salads. And believe it or not, the side salads were pretty damn good and fresh. The sausage was excellent, but not as good as Smitty's.
Brisket was dry and unremarkable so I'll leave it at that. I had to pick a couple bone fragments out when I was eating sausage here. This can certainly happen anywhere that makes their sausage home-made style so I don't hold it against them. This place looked impressive and the sausage scored an 8 for me and an 8.9 for Richard. He liked the consistency of the grind more than I did. I recommend ordering the jalapeño cheddar sausage. And load your plate up with the free Texas sweet onions they provide. Delicious.
There was no wait. The place was huge and felt a little like a sterile theme park. I would go back for the sausage but nothing else. The lady behind the counter who took my order was very nice and treated me well.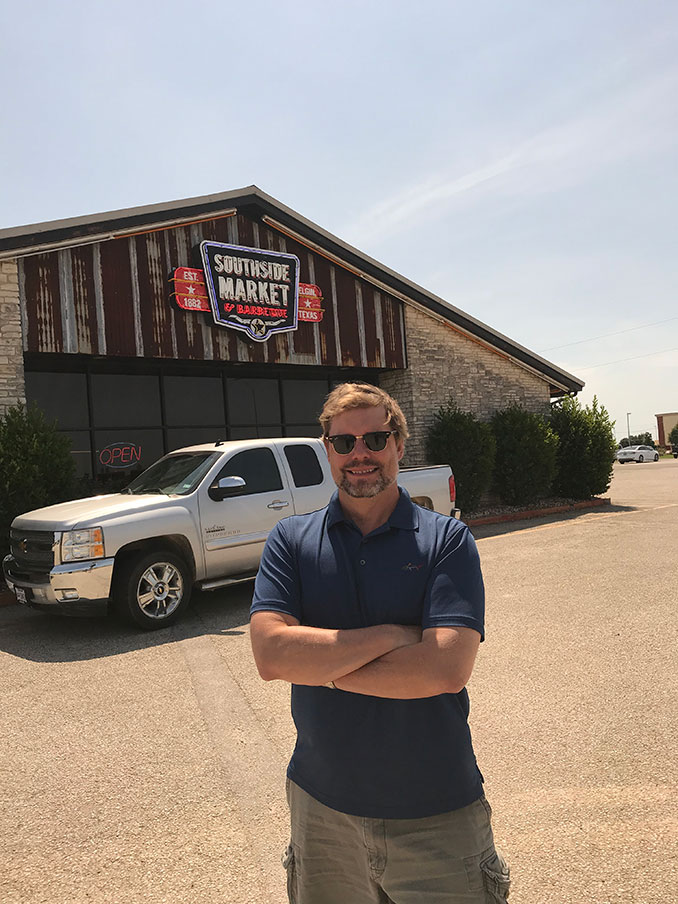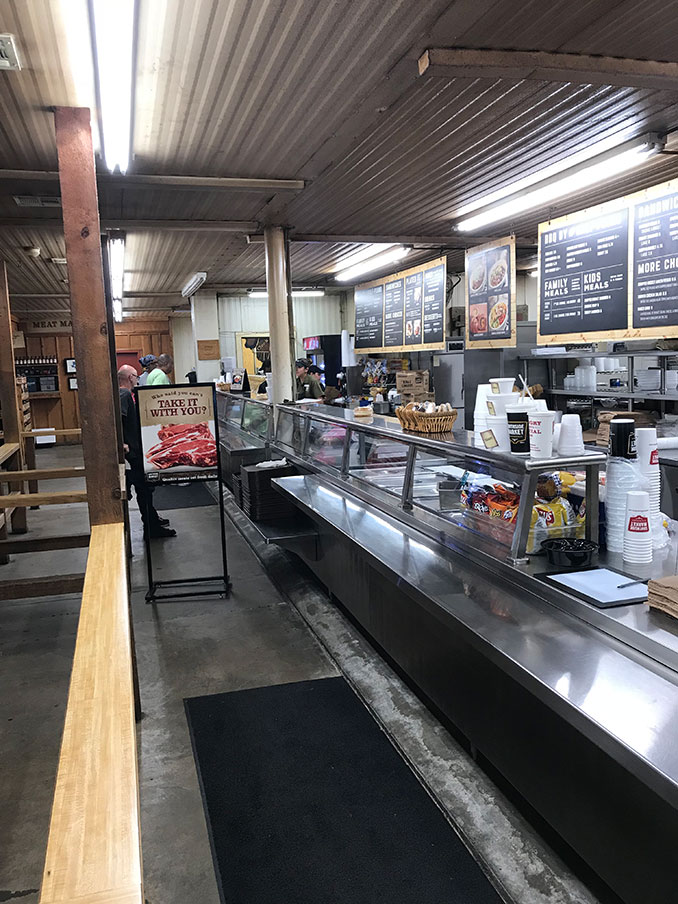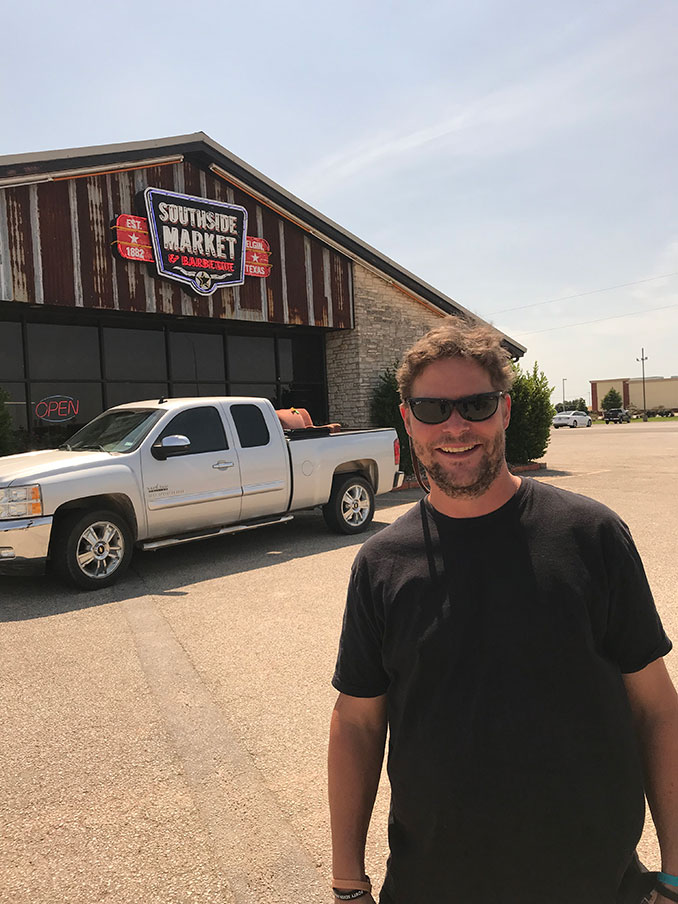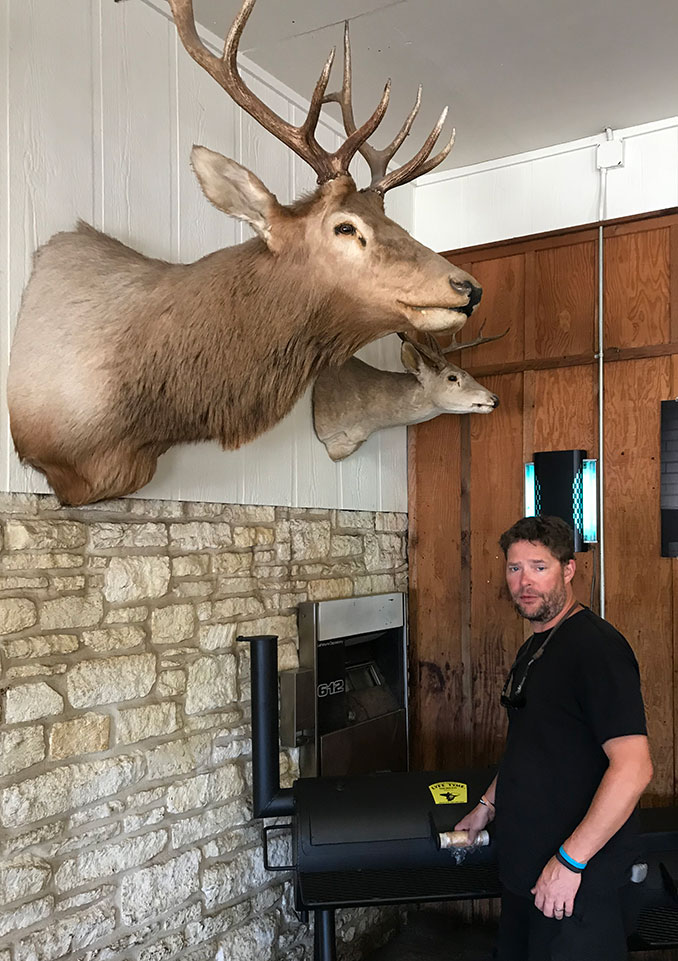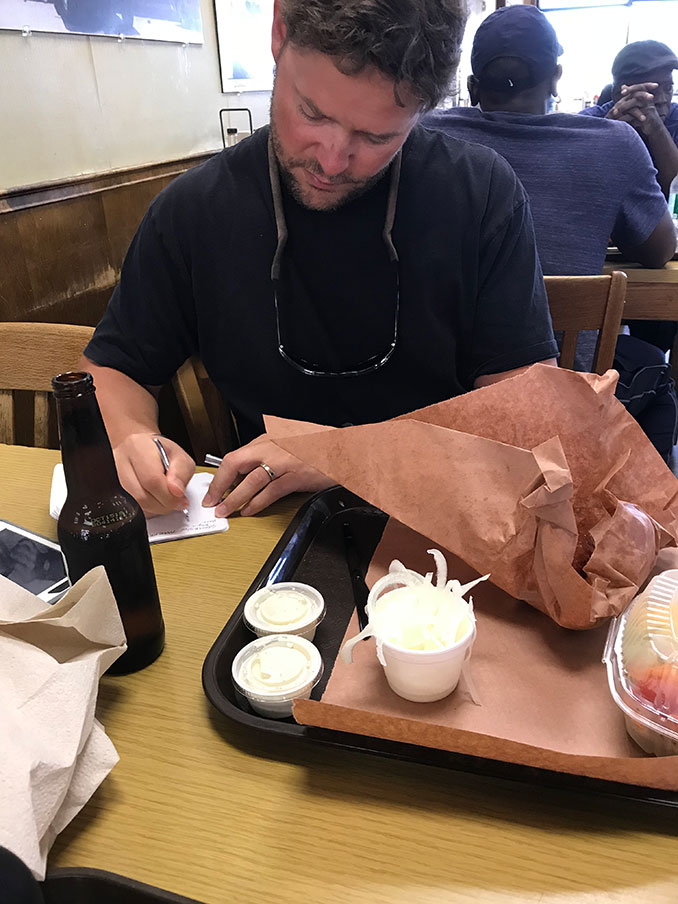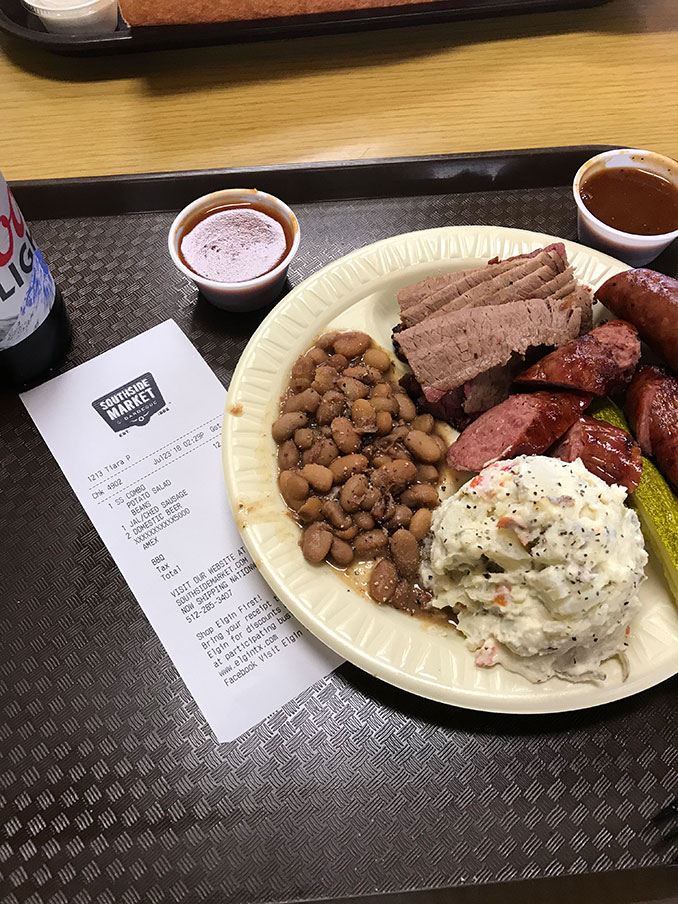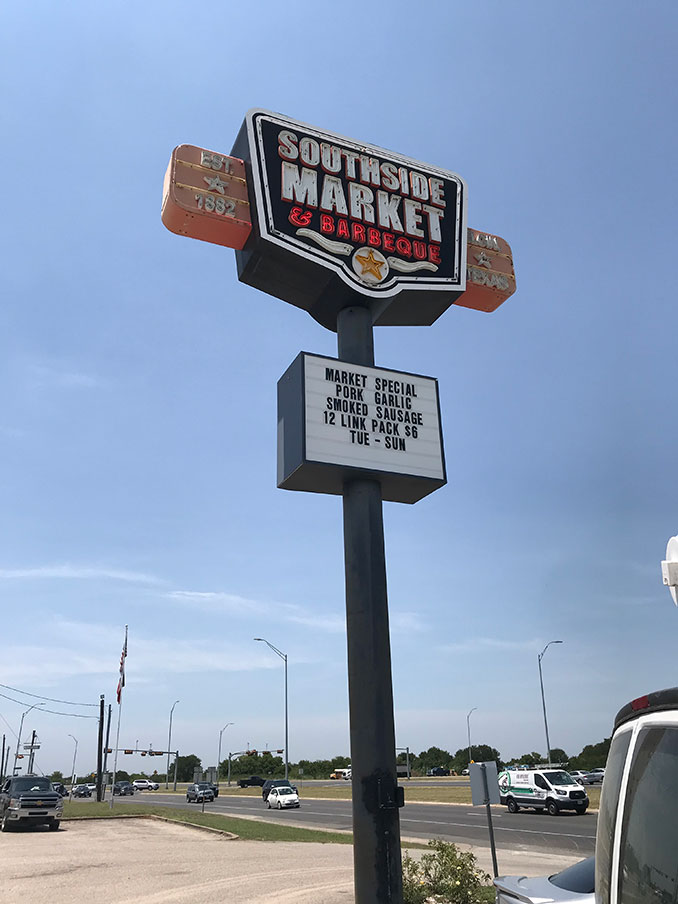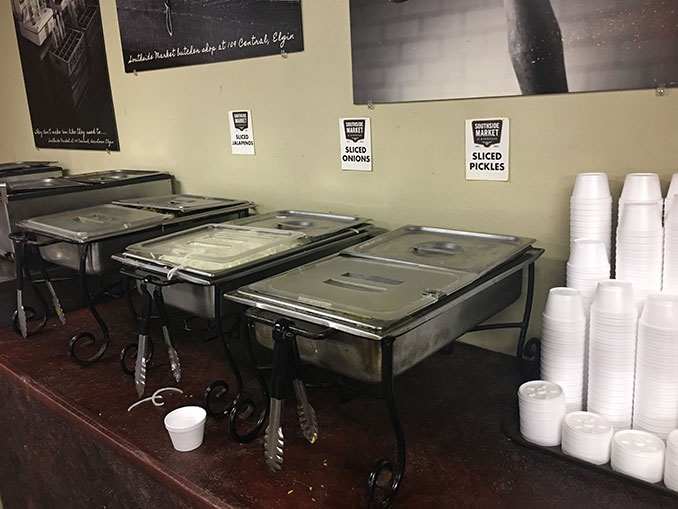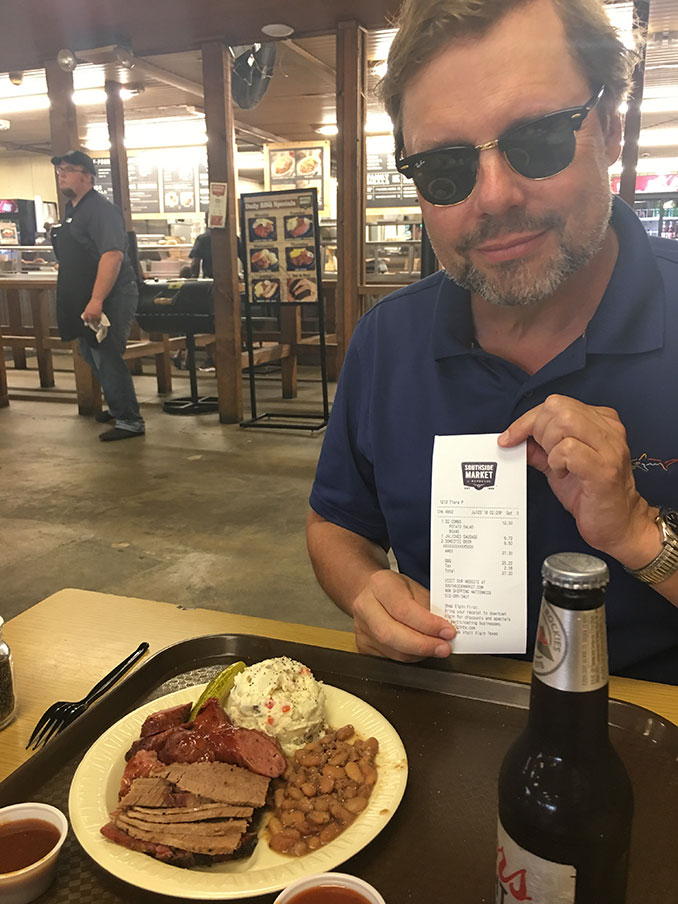 ---
Next Stop: Chuy's
Richard and I wanted to have a mellow evening so we jumped on electric scooters and scootered down the hill about three miles to Chuy's. Richard told me we had to go there and I thought it was interesting that Chuy's was not Asian food; it is Tex-Mex to the Tex-Max.
I am so glad we took the detour from barbecue brisket because this place was legitimate and fresh. As my brother and I discussed, it reminded us of Nuevo Laredo here in Atlanta. But maybe a bit more fun crowd and atmosphere.
It had been a while since my last margarita, so as we waited for our table, both Richard and I wanted to sample their offerings. He got the frozen and me the rocks version––both with salt on the rim. They were excellent and the right strength.
Our meal consisted of the regular cheese dip, chips, salsas, guac, etc. The thing that stole the show was the Hatch green chile "sauce" which was more of a thick salsa. When you go here, get this. You will be the envy of your friends.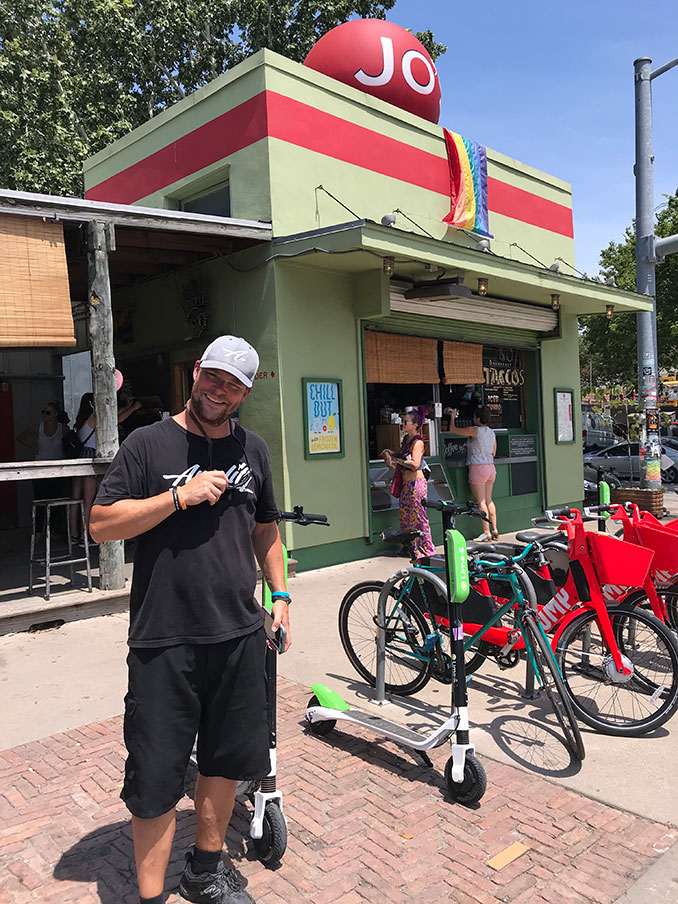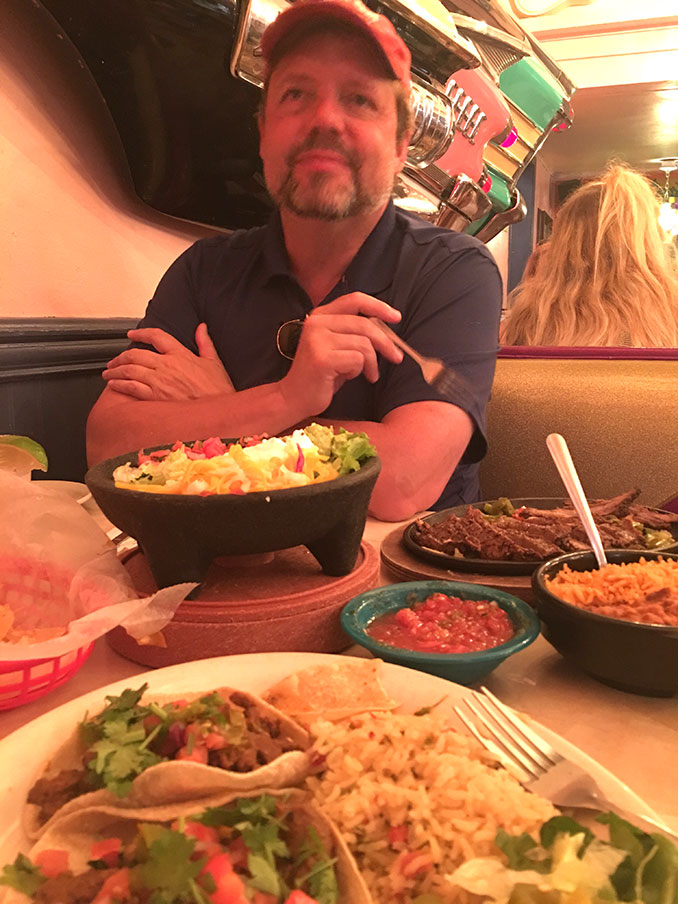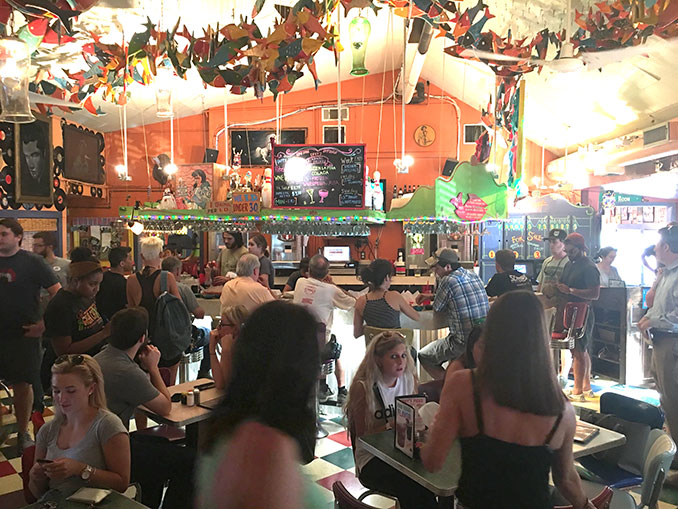 ---
Next Stop: Continental Club to See Dale Watson
Feeling full, we hopped back on the scooters for the ride up the hill to what would become a transformative experience: Dale Watson playing at the Continental Club. We had heard that the club had cold Lone Star beers so we were curious to check it out for ourselves to see if the rumor was true. Luckily, the club is right across the street from our hotel. Very convenient walk.
We entered the club as the show was about to start. Hands stamped, we stammered to the bar to grab a couple cold Lone Star beers and establish our space for the upcoming show. We toured the back area behind the stage where the merchandise was being sold, and ended up hanging out next to the stage to watch the master Dale Watson work.
The vibe of the place was warm, sunny, and fun. People danced to the music in front of the stage. And by dancing I mean real Texas cowboy style dancing. After the show, we retreated to our respective rooms to rest, as the raison d'être for us travelling to Austin was to go to the hallowed ground of Franklin Barbecue: The place built by Aaron Franklin that is legendary for best brisket in Texas. We needed our sleep after that cheese dip.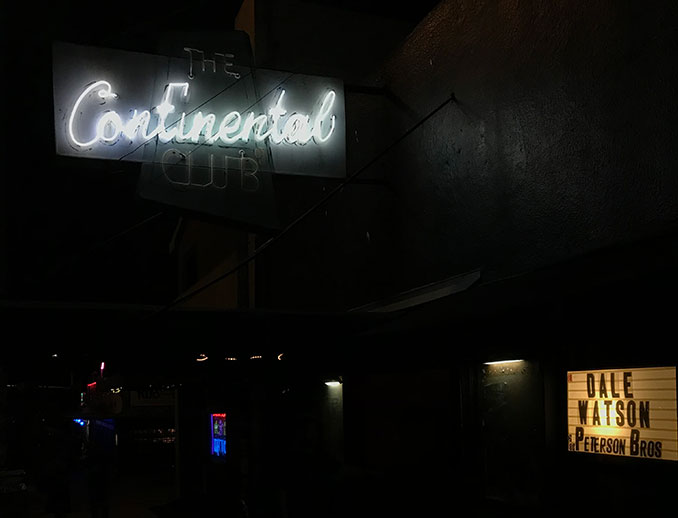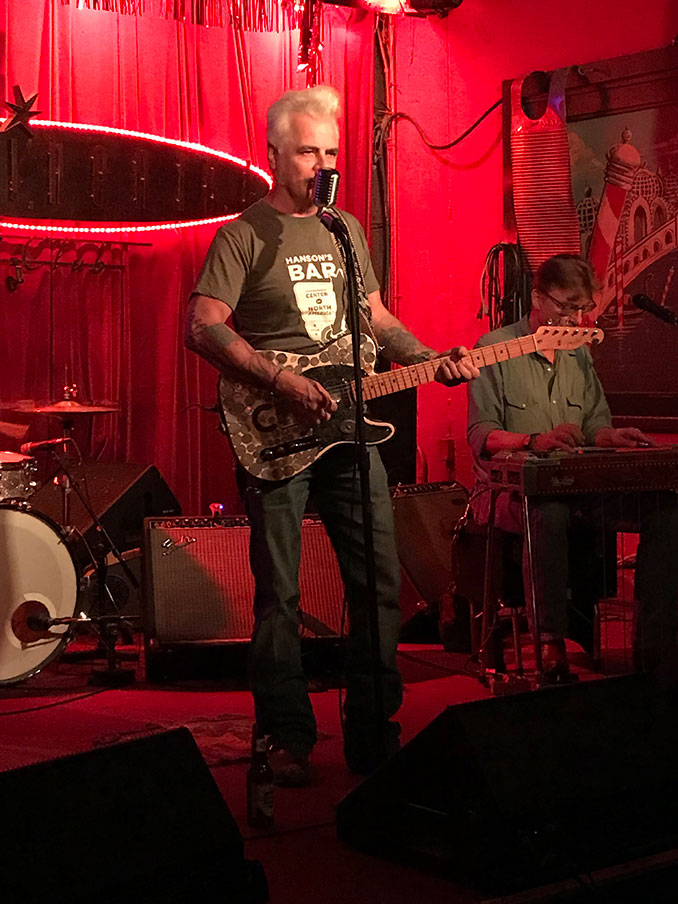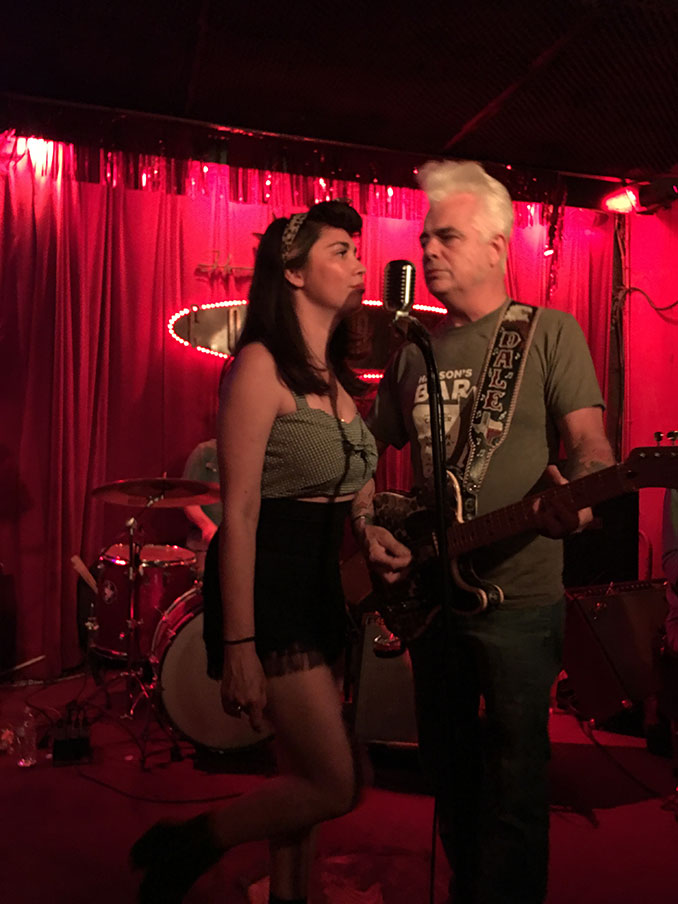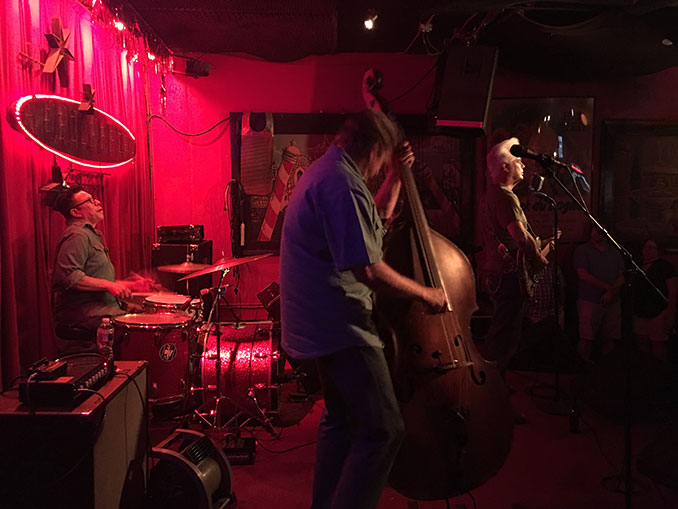 Time to go to Franklin Barbecue. But First, a Side Story
I was on Amazon one day browsing for a book to help me barbecue better. I did not want a basic how-to guide, as I already knew how to do it, as evidenced by people hiring me for years to deliver excellent food.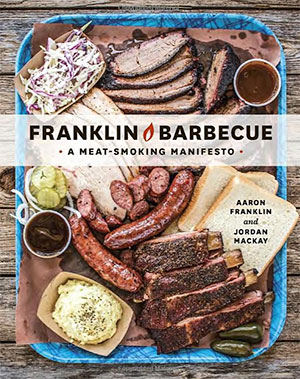 I stumbled upon "Franklin Barbecue: A Meat-Smoking Manifesto", read all the 5-star reviews, got out my credit card, and bought the book immediately, hoping that it was what I was looking for.
Here's a blurb about the book that was written by another favorite person of mine: "Aaron Franklin makes the finest barbecue I've ever had, barbecue worth waiting for. His work and his words express a truly rare level of commitment and expertise. With Franklin Barbecue, he shares it all—in a book that, fortunately, you don't have to wait for."— Anthony Bourdain
As soon as it came to my door I cracked it open and consumed the book in about a day. I fell in love with the simple writing and direct language, as well as the behind-the-scenes view at how he got started. I liked the book so much that I purchased about five copies for friends and family. I own two.
Once I read the book, I realized that I was producing smoky barbecue just fine and people were happy, but that I could make my barbecue a whole lot better. I needed the book to prod me in this direction. I was inspired.
One of the chapters deals with how he constructs his smokers. I read the chapter about 10 times, took notes, and went about trying to replicate his smoker in my own way.
This involved somehow getting a 340 gallon propane tank off of Craigslist and into the side of my yard, draining it of all the explosive gas, drawing a schematic of how I wanted to build it, learning how to weld like a rookie, purchasing steel from a steel store, doing more grinding and cutting and welding than should be allowed, fabricating the whole thing. This was my first attempt at fabrication and I think it turned out looking like my first attempt at fabrication, but the damn thing works great. I can put many beef briskets on it, as well as pork butts or whole pigs, and I smoke everything using the same methods Franklin Barbecue does. Judging by Georgia Smoke's reviews, I think we are constantly getting better. That's what it is all about.
This holy book was the catalyst for travelling to Austin Texas to eat at all these famous barbecue joints. We saved Franklin Barbecue for our last day there.
Last Day, First Stop: Franklin Barbecue.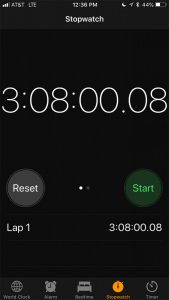 Richard and I asked anyone who would respond what they thought about Franklin. Several people said it was not worth the hours-long wait and we should go to La Barbecue. Many others said it was the best they had ever had. We received a wide sampling of opinions, but those opinions would not alter our plans: We were in Austin to go to Franklin Barbecue and wait in line as long as it took to be able to understand what "the best" is supposed to taste like.
I believe we arrived via electric scooters at about 8:45 a.m., and the line had already formed with maybe 100 people in front of us. Richard saved the spot at the back of the line as I went up to grab used leftover chairs that people had kindly donated to the line. Once I grabbed those, we settled in and prepared for a wait that neither of us would ever tolerate anywhere else in the world.
There was a nice lady who took our pre-order at around 9:30 a.m. as she walked the line, and gave us some tips, such as water and bathrooms were inside, as well as they had cold Lone Star Beer engulfed in buckets of ice that are available for purchase. Who knew?
Luckily for Richard, he was one ahead of me in line, and so I was blessed to sit next to a Canadian. Have you ever sat next to a Canadian? Of course he was a nice guy but as some might know, I like to insinuate so that you may infer that something was wrong with him.
Around 10:30 a.m., I walked inside to acquire one of them buckets of Lone Star beer and we slowly sipped it as we waited for the line to move. This line was unlike any other one I had ever been in: It was like tailgating for a football game, though with less hootin' and hollerin'.
The line did not move until Franklin was about to open. People packed up their chairs and coolers, and shuffled forward. Mouths were watering. Once we make it through the line and ordered our pound of brisket, pork ribs, and sausages. We took the meat to the covered picnic tables outside. After we sat down, I looked at Richard's phone as he held it up in my visual field.
3:08:00.08
He then tells me that he had started the timer when we got in line and that we had waited over three hours. I told him that this meat better be effing great.
It was.
The experience of waiting in line is part of the charm. Who in their right mind would wait that long for barbecue brisket? Hundreds a day do at Franklin, until they are sold out of meat. Hordes line up every day other than Mondays and for their two week vacation when they are closed.
The meat was best I've ever had, though Smitty's was just about tied with it. I liked Smitty's sausage better, maybe this brisket was a bit better? Virtual tie. But holy cow we also ordered pork ribs and those were amazing. Better than anything I've had here in Atlanta or anywhere else.
A highlight was being quietly let into the room where the pitmasters smoke the meat. Two gentlemen pitmasters were as nice as could be as I took a million photos and asked questions such as "Which one is Rusty Shackleford?" (this is a question that springs from the description of one of the smokers from Franklin's book—he names all of his smokers.) The craftsmanship of the room in which they smoke was breathtaking to me. Also breathtaking was the heat and smoke.
We gave Franklin Barbecue a 9.5. Why not a 10? My loving mother Jacque was a perfectionist, and she taught us that there is always room for improvement, so a 10 should be impossible. Therefore a 9.5.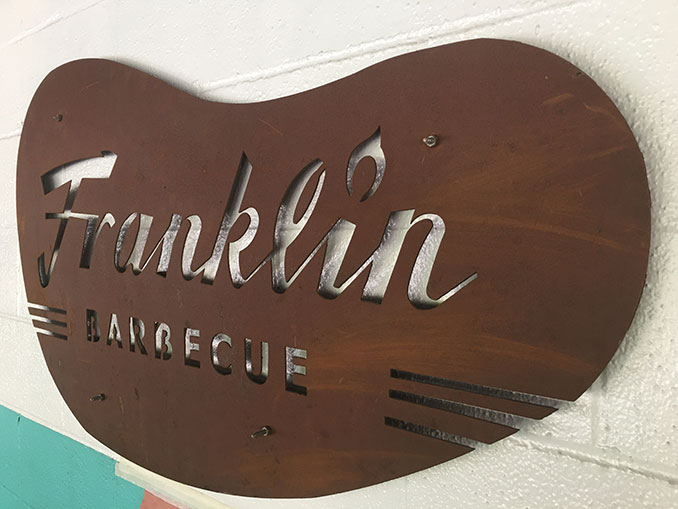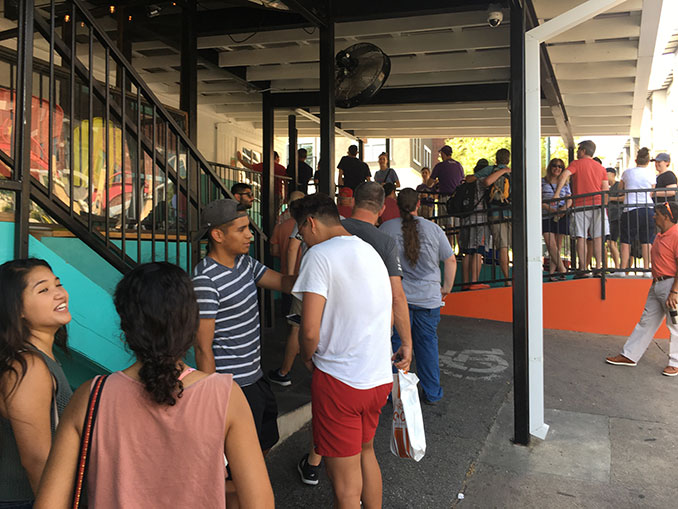 At some point, a person in line annoyed me and I said this. Then Richard had me reenact it: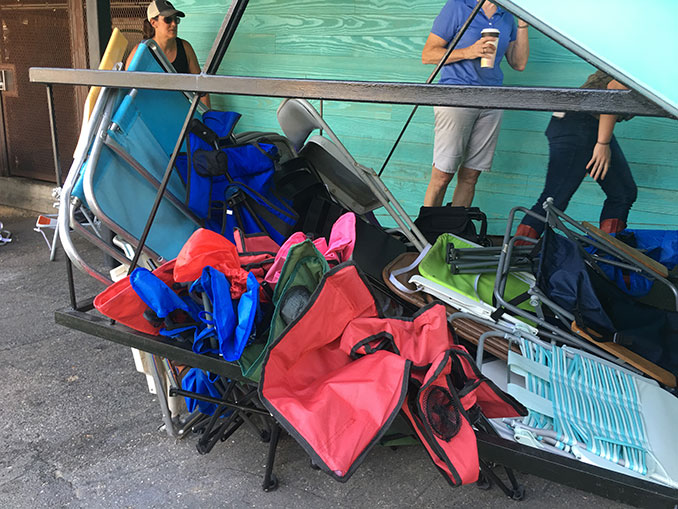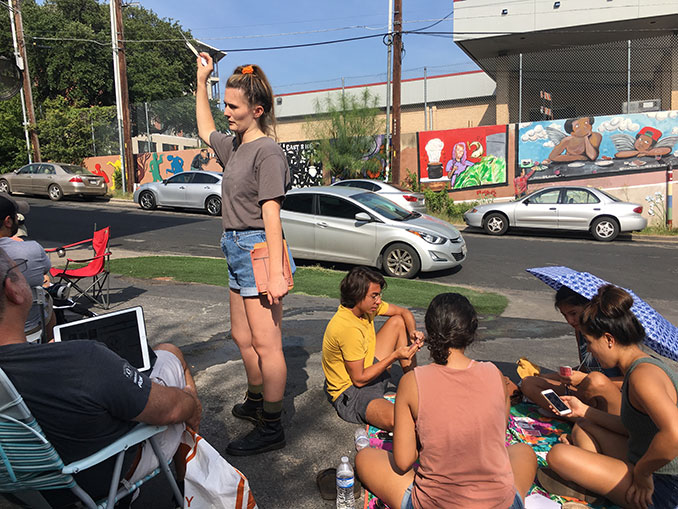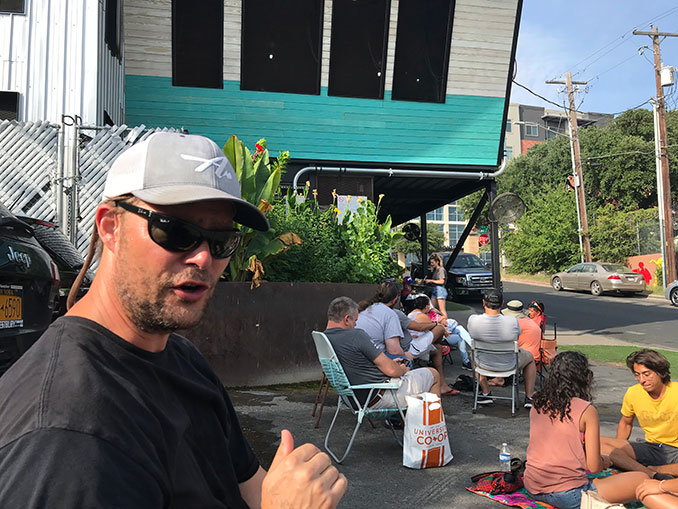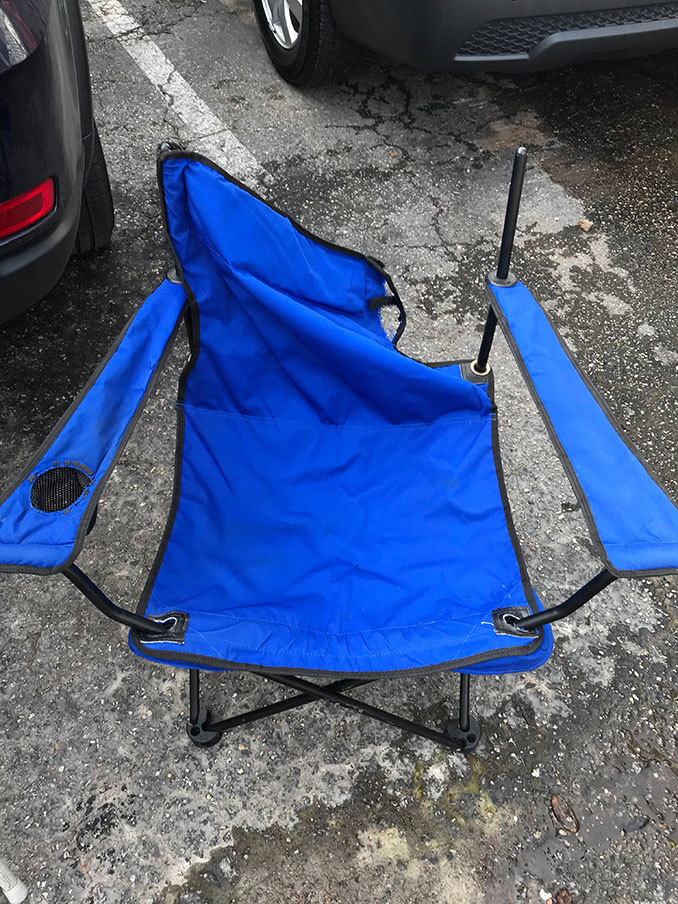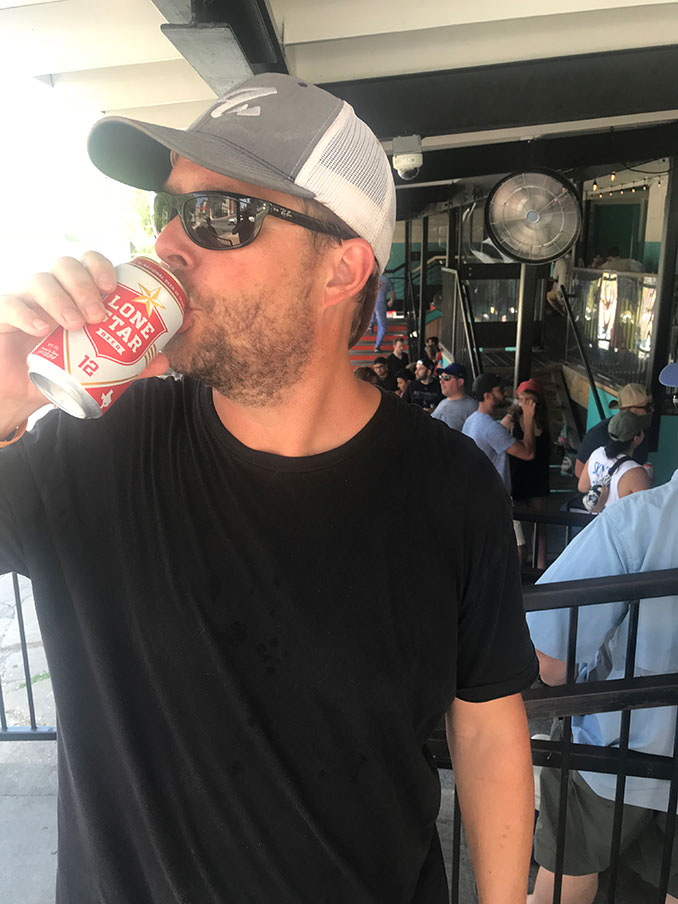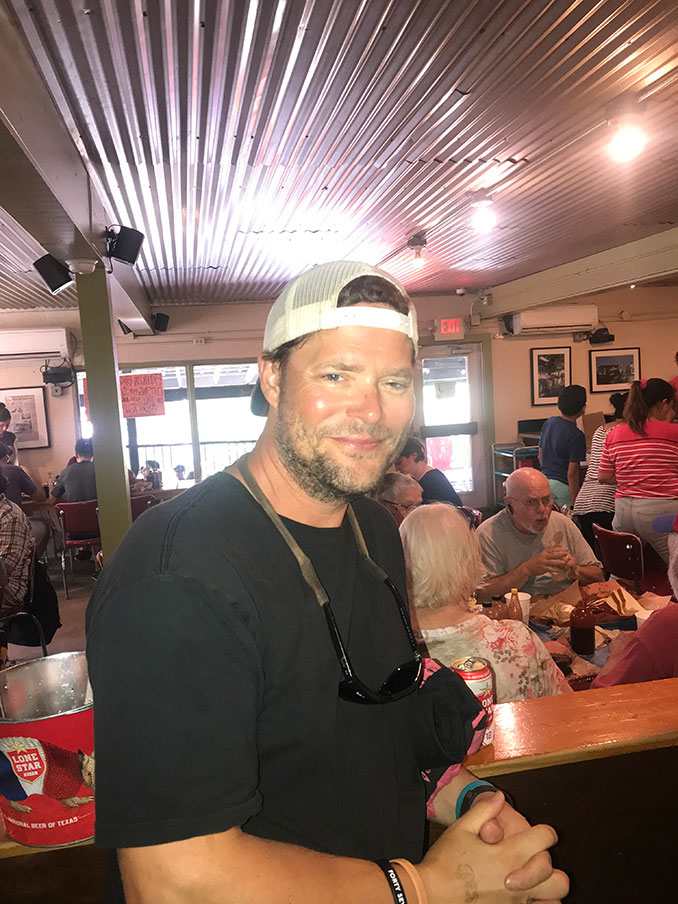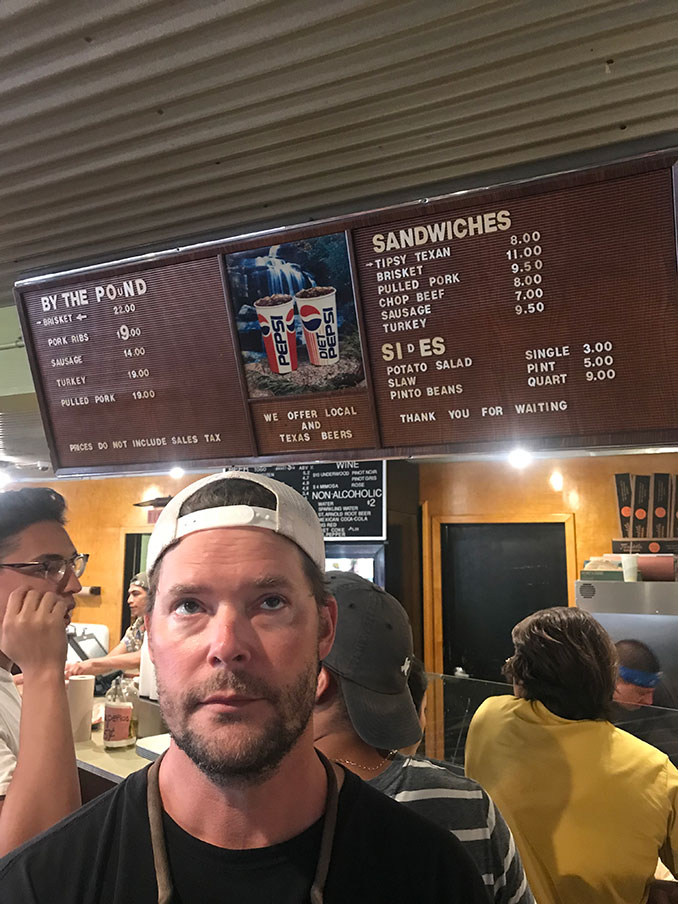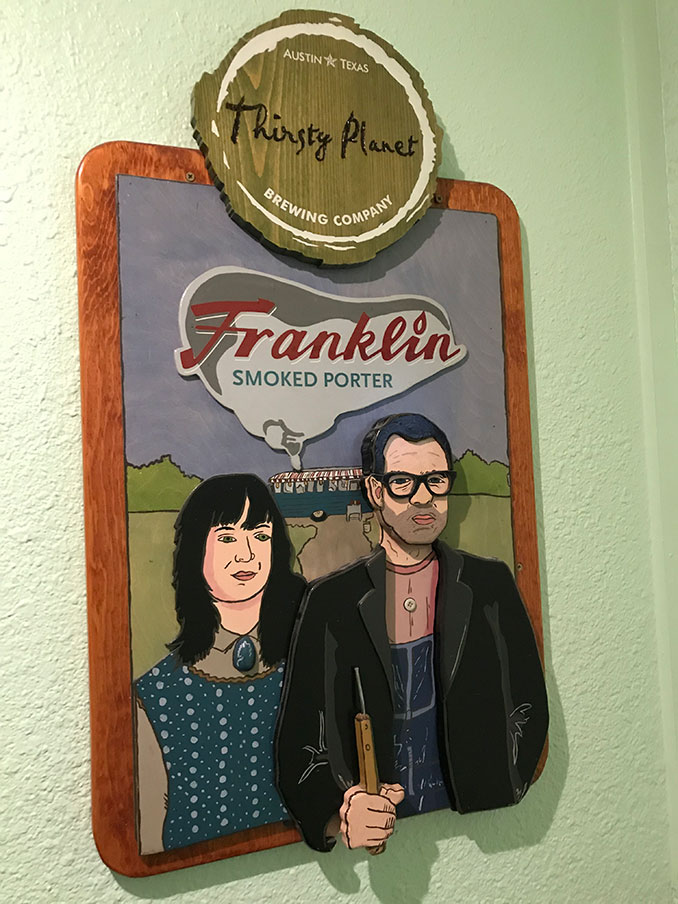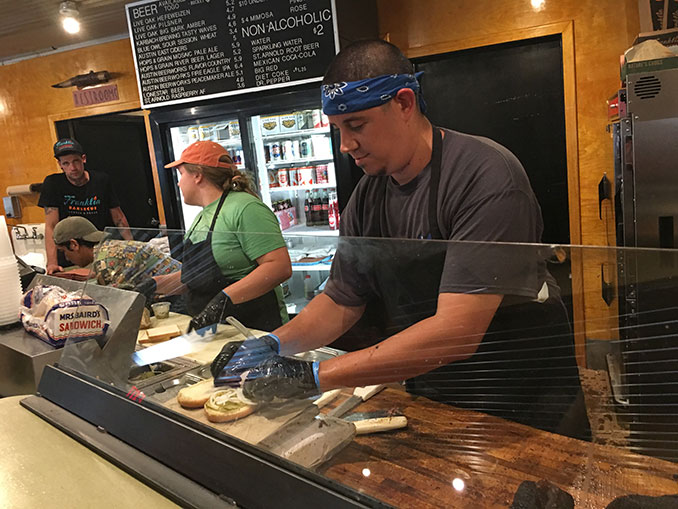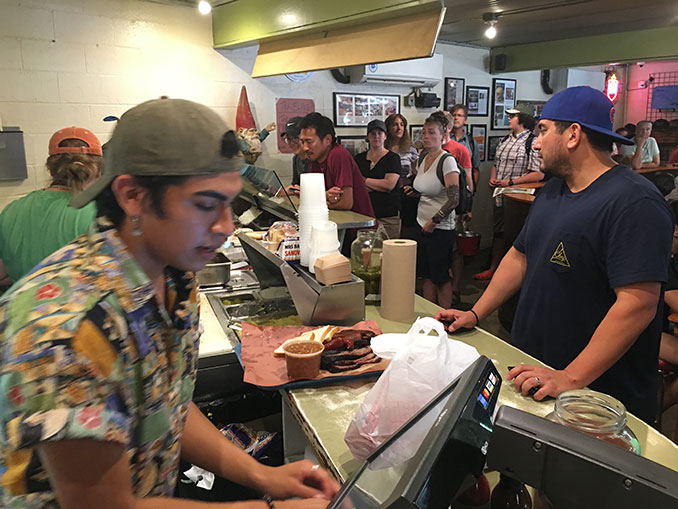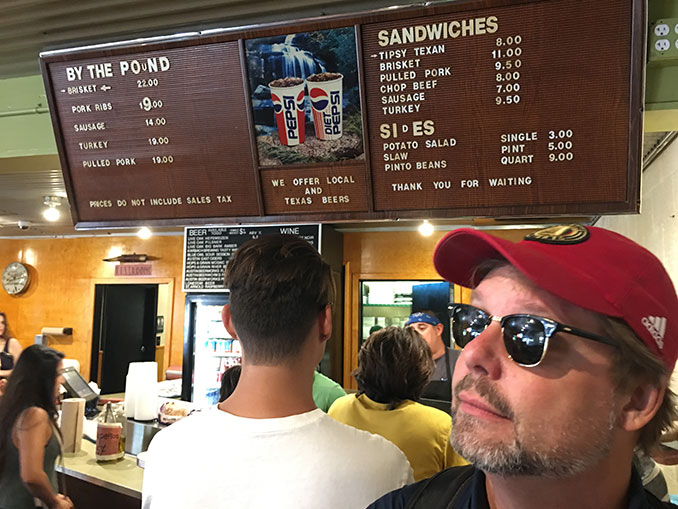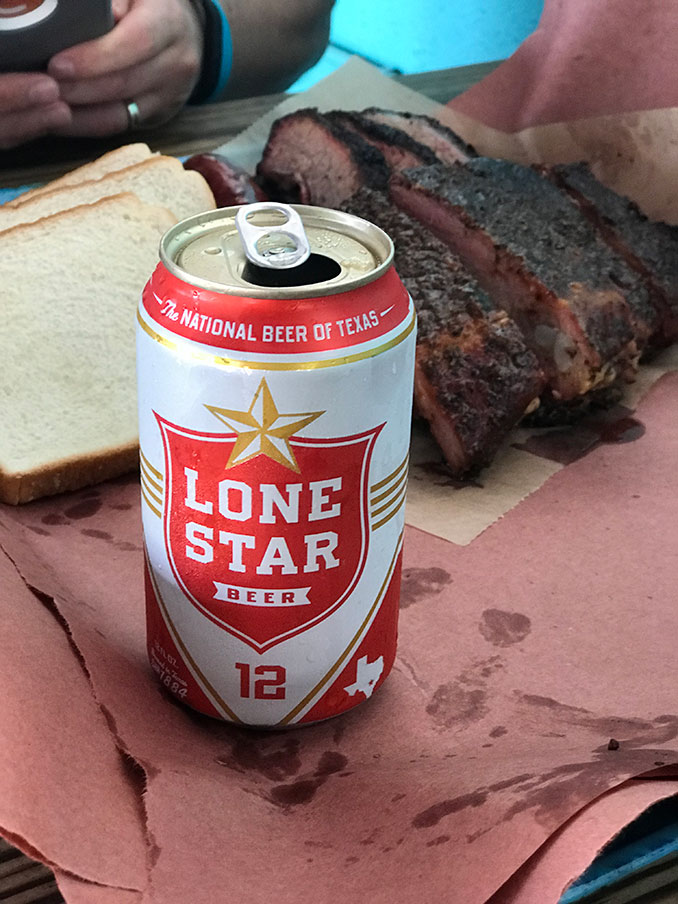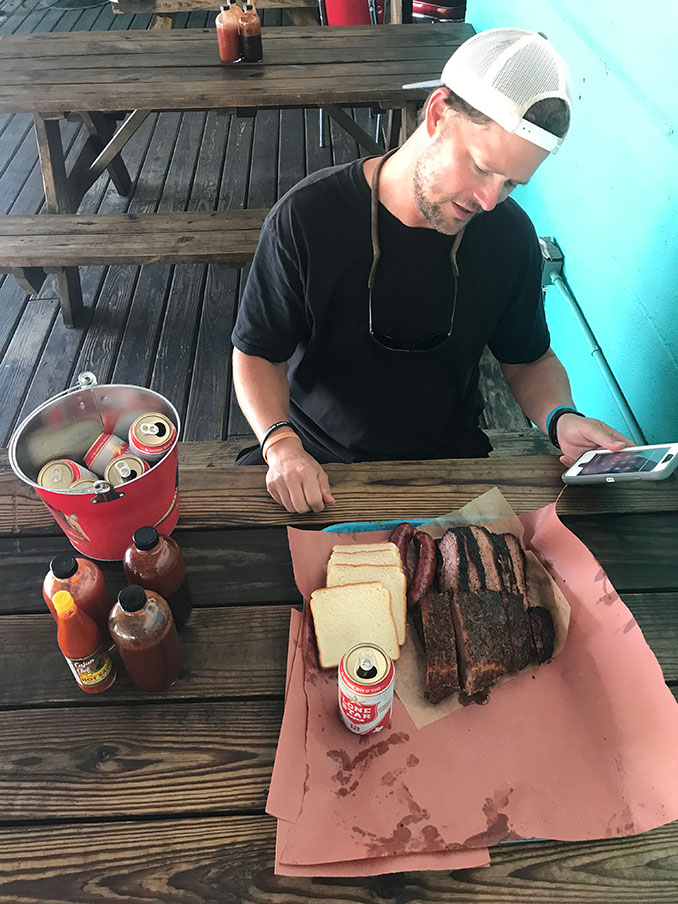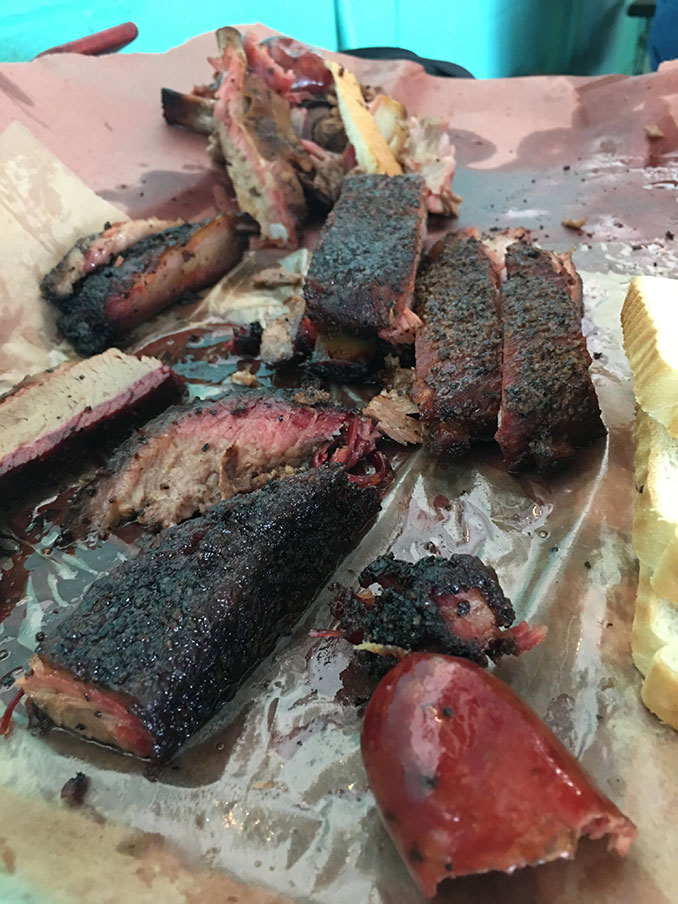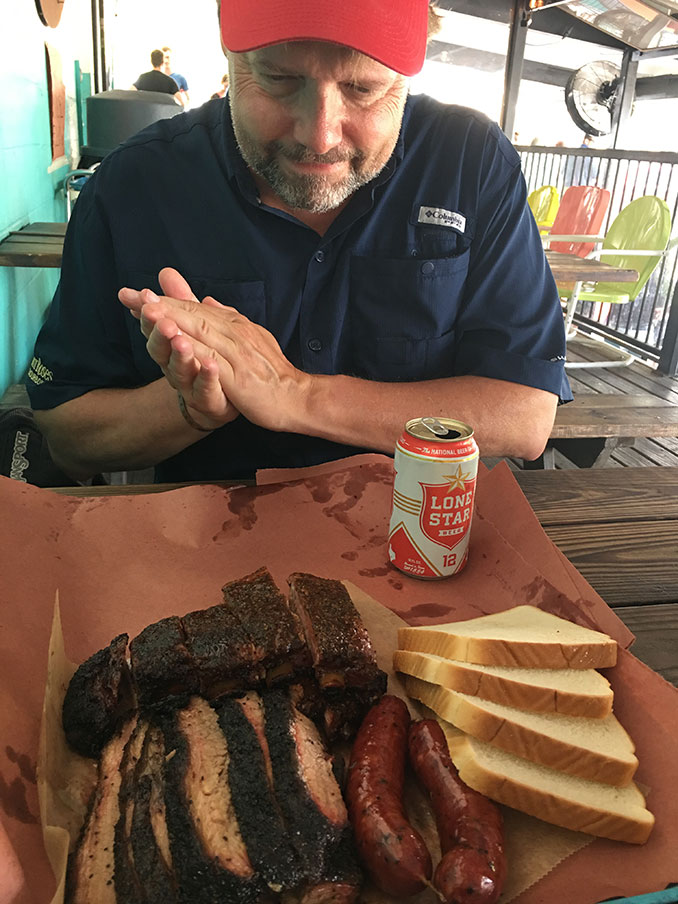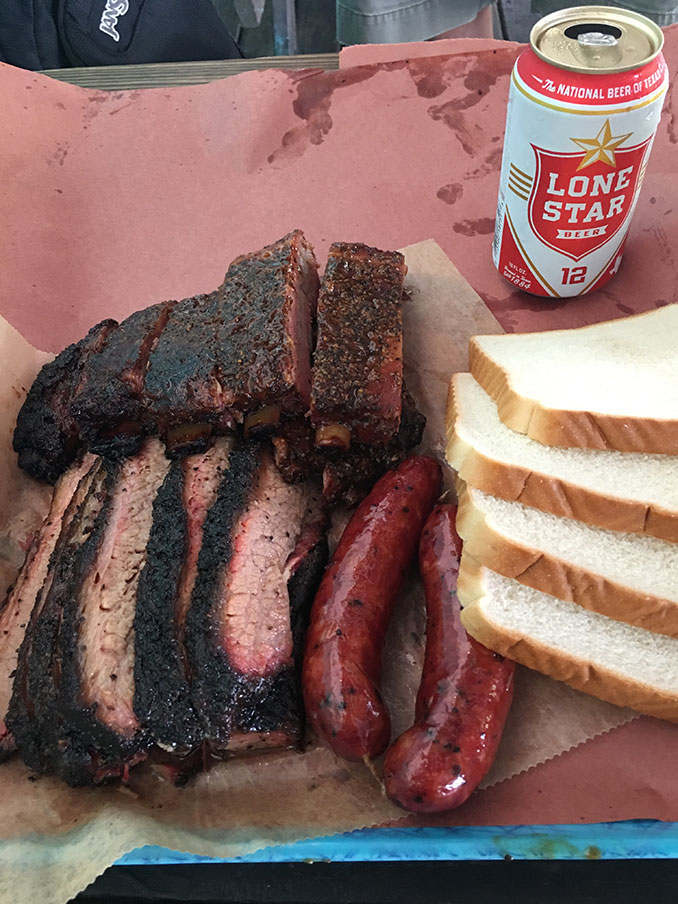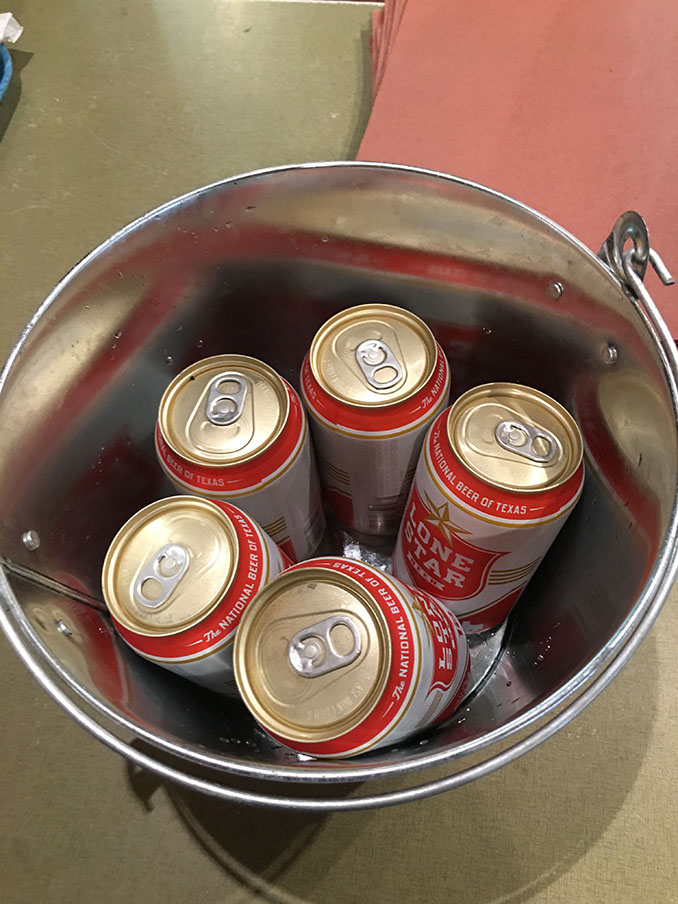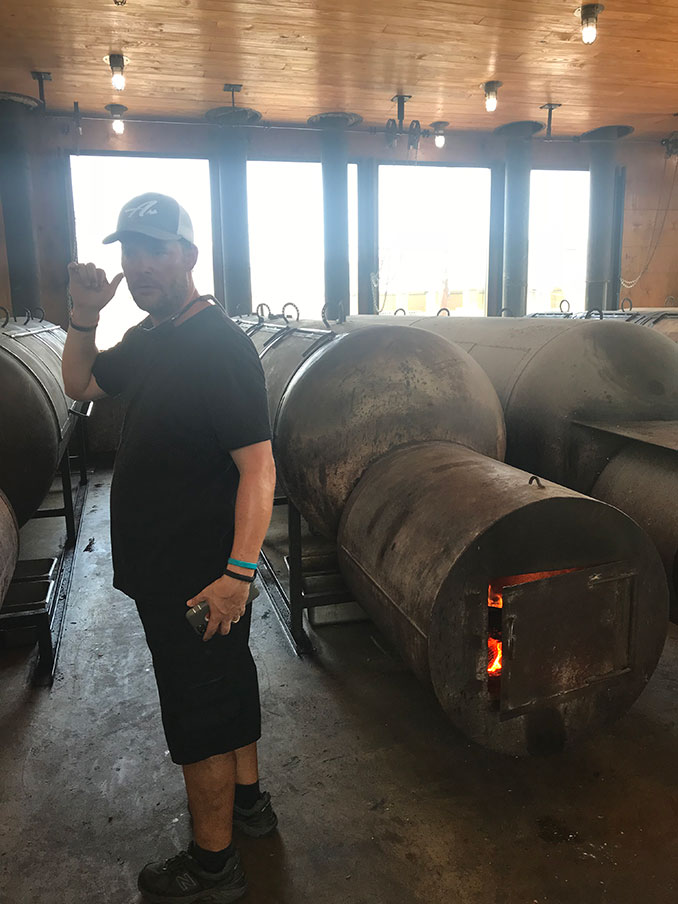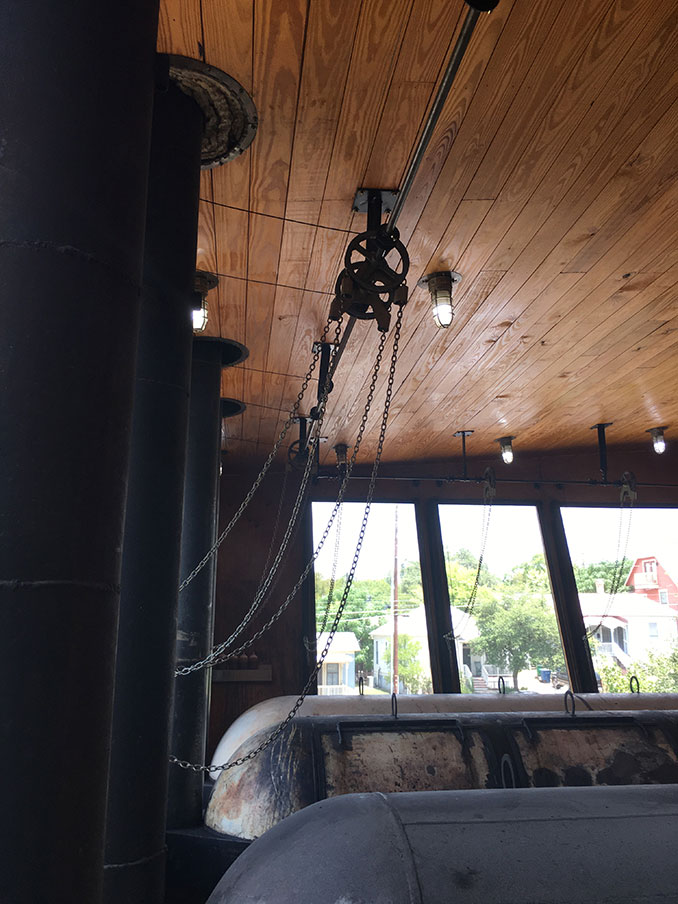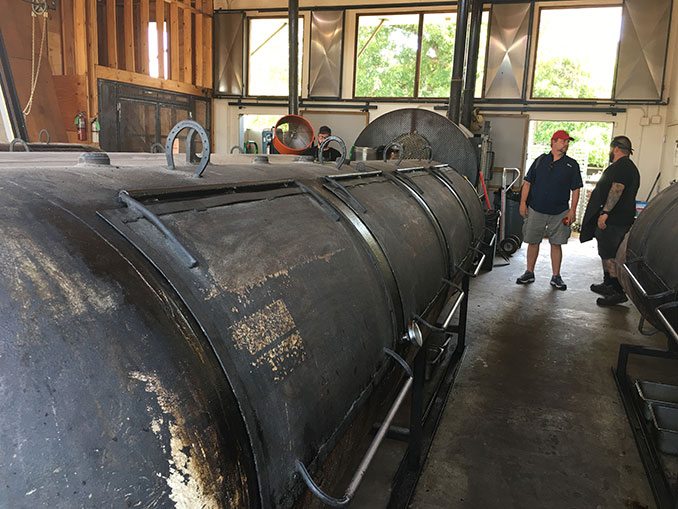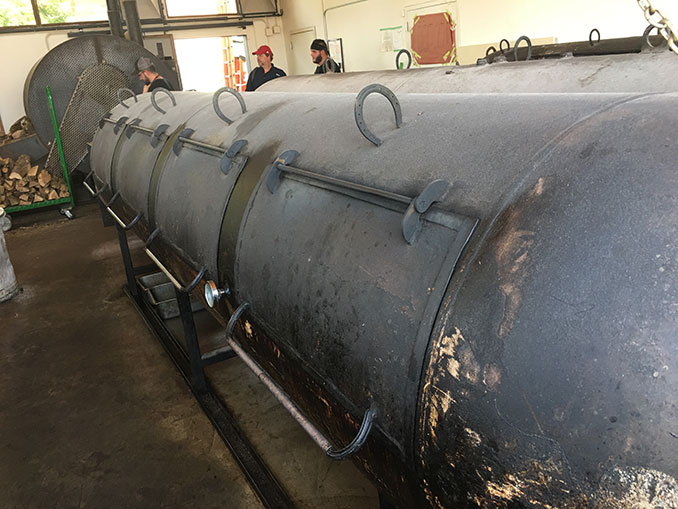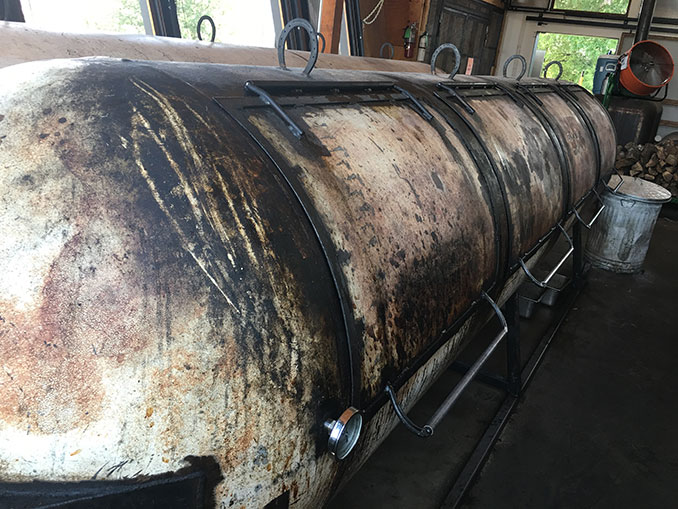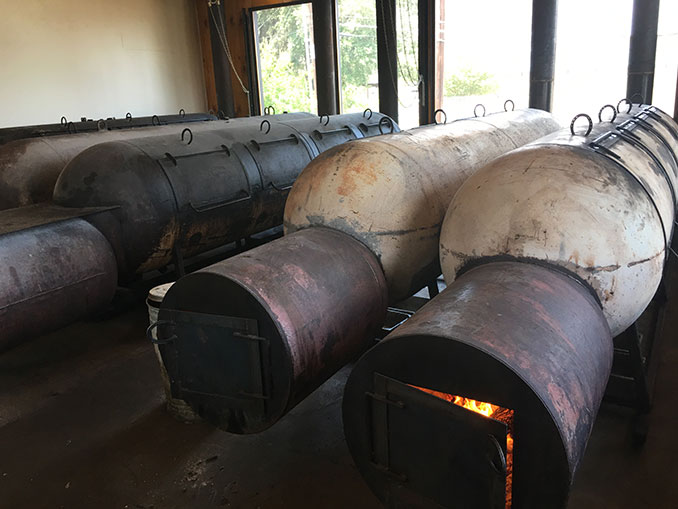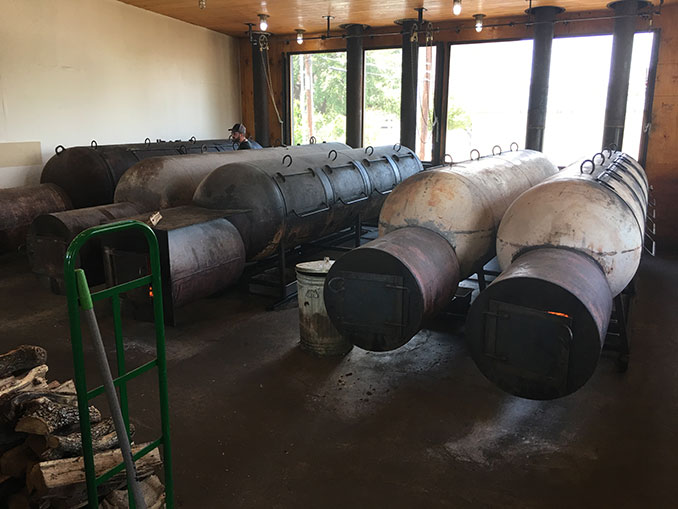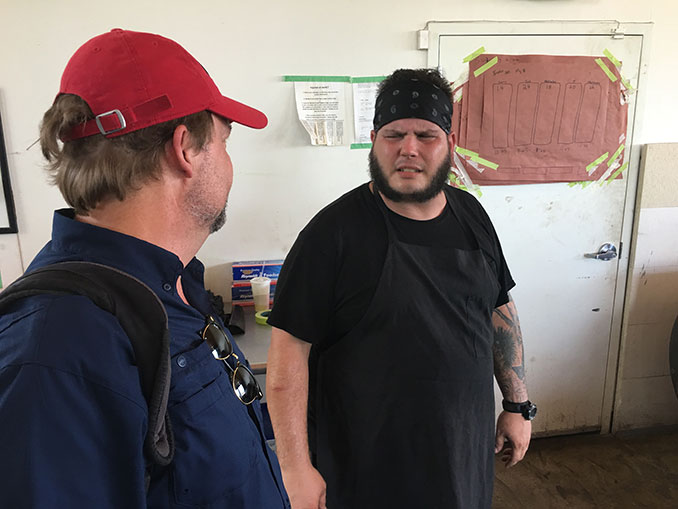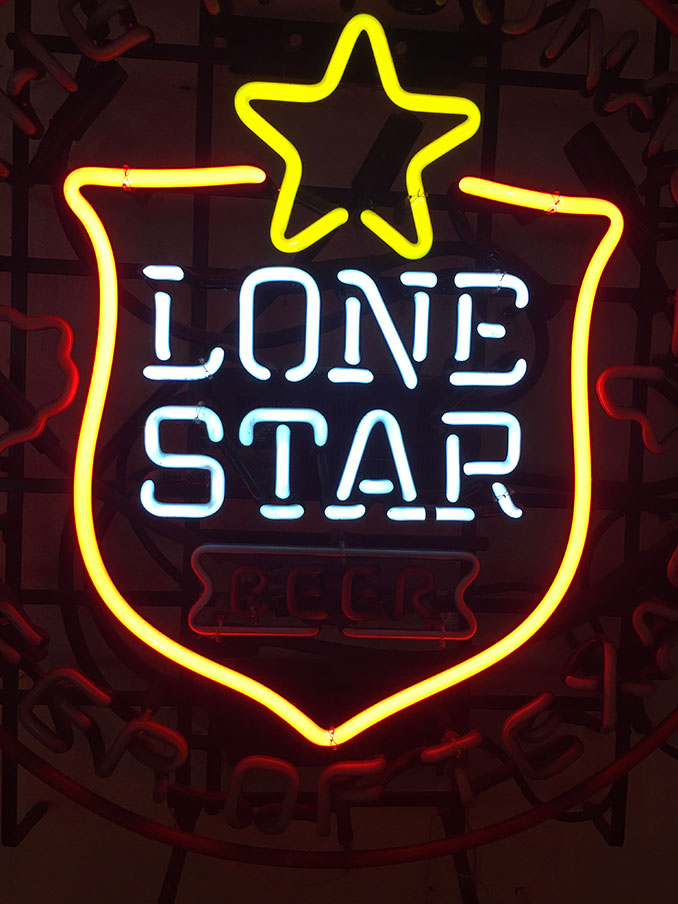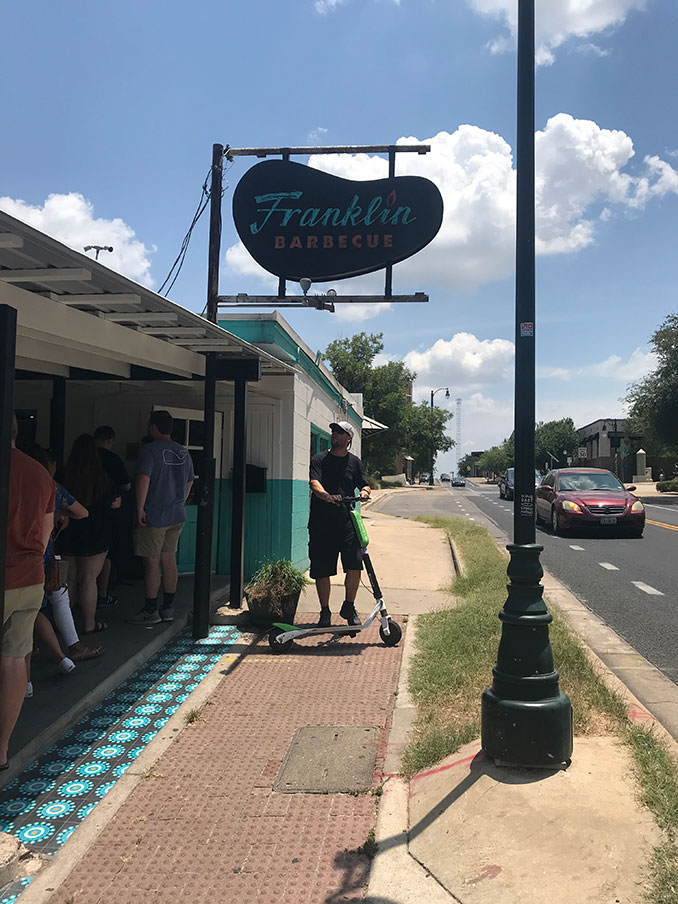 ---
Next Stop: Uchi Sushi
Richard had yet another crazy idea: Let's go eat some sushi due to the fact that our systems were nearing shutdown mode due to the many pounds of beef and sausage we had consumed over the last 72 hours. Sushi in Austin? Yes; and it's flown in all the way from Japan.
Uchi had a very warm vibe with what seemed like an endless roster of chefs behind the sushi bar. We had reserved a table, and they sat us in the back of the restaurant due to the fact that we probably smelled like barbecue pits.
It was an excellent experience. From the salads to fish I had never eaten like barracuda, every bite was as fresh as you want it to be. We enjoyed a well-paired bottle of cabernet with our meal, and by the end of the experience, I was worn out.
Luckily, we had the Continental Club to go to, as it was across the street from the hotel. We scootered back from Uchi, summoned up the strength to go into the club, and enjoyed our last evening of music and Austin.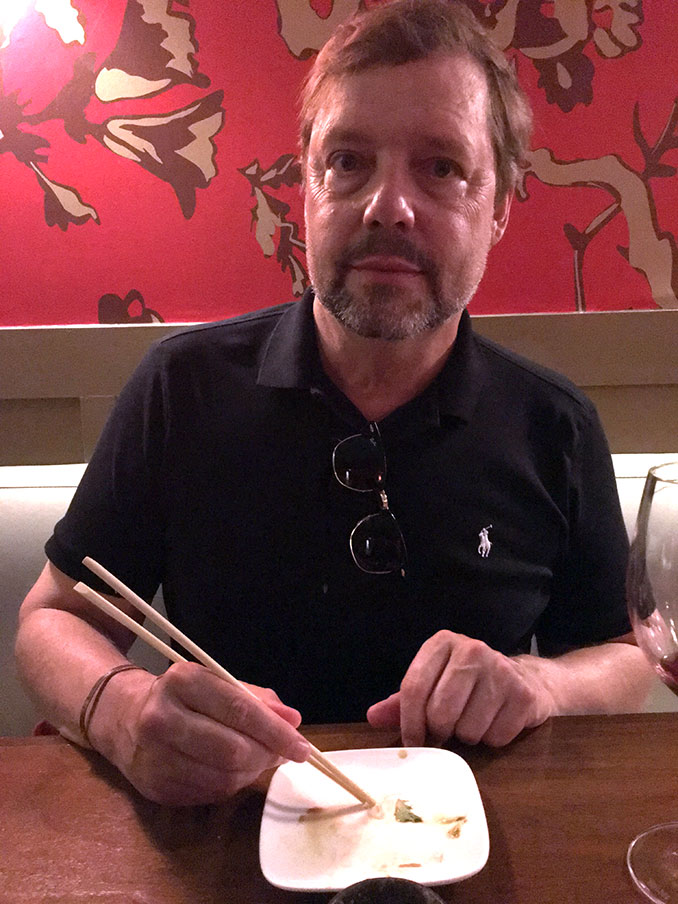 ---
Final Semi-Random Thoughts
If you want to taste the best barbecue near Austin, go to Franklin Barbecue and Smitty's Barbecue. If you are still hungry after that, maybe try La Barbecue and then the others I mentioned. We did not get to La Barbecue but I heard it was great.
I had never ridden on an electric scooter before. It's life-altering. Do it. Austin has thousands of Lime scooters. One dollar to start and 15 cents a minute thereafter. Cheaper than Uber and you get to see more of the city faster that way.
I have never seen so many large piles of post oak.
Lone Star beer is now my favorite.
After the trip, we drove to Luckenbach, Texas, on the way to Big Bend National Park. You must visit both places before you're worm dirt.
Every time I cook, I strive to cook like Franklin. However, I use some different methods and different types of oak. All the oak I use is from fallen trees in Atlanta, then I cut the trees up with my two chainsaws, load my Toyota Tundra, and then take the wood back to my house where I split it by hand myself, using a maul, and then let it season. Everything I smoke uses this oak. In my opinion, my brisket approaches Franklin's and Smitty's in flavor; I need to work on presentation a bit.
Traveling "alone" with my brother is an opportunity of a lifetime. We have worked together for 26 years to build Lenz Marketing, so obviously we are familiar with each other, as well as our tendencies. Like when we were eating at Uchi and I was a little loud and animated, (was overserved some red wine) and Richard immediately knew what to do. Put me on an electric scooter and send me into traffic. Seriously, I will never forget this trip. This is the only trip of my life that not only I took notes, but I wrote up a review of it for posterity.
The BBQ places that we went to always used "Barbecue" as a full word instead of BBQ. I wonder if that's a Texas thing.
Franklin is famous for brisket but the pork ribs were the best in my life by a large factor.
Dale Watson was the perfect artist at the perfect time of the day for me. He was exactly what I needed at that point.
The people I interacted with along the way were universally nice and open. Could you imagine going to a restaurant and getting a behind-the-scenes tour, just by respectfully asking? It happened at every place we went. And besides those folks, the others around town were always nice. I really like Texas and its people. I feel a kinship with them.
This trip would never have happened without the leadership of my brother Richard, and the support of my wife and kids. Also, everyone at Lenz Marketing worked hard while we were gone and kept the ship sailing faster than ever. We have a great team.
If you have any questions, or want to argue about what's the best barbecue place near Austin, send me an email.
Some Final Random Photos