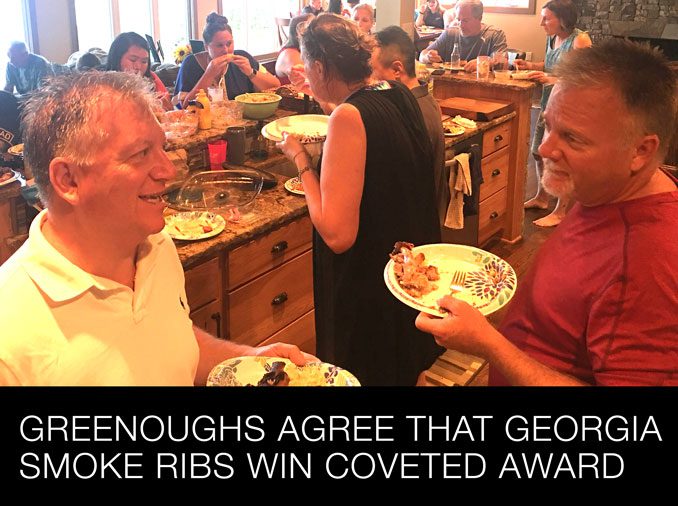 Georgia Smoke BBQ was recently challenged to a rib cook-off at Lake Lanier on the 4th of July. Never to shy away from a competition, Georgia Smoke dared to dream big and pulled off yet another stunning victory in this hotly contested yearly must-attend-and-eat-at event at Lake Lanier.
Many attendees traveled from as far away as Seattle to not only sample, but to devour what is increasingly becoming known as the best BBQ in Atlanta.
Noted rib consumption expert Marc Greenough had this to say about Georgia Smoke's ribs: "I've had quite a few ribs in my life, and the ones you served today had a certain je ne sais quoi about them that I can't describe without using a French term. They were the clear winners of the challenge. I may not fly back west."
Challenge contestant and distant runner-up Scott Greenough remarked: "Your ribs were clearly better. I tried my hardest. I came up short. Back to the cutting board."
Lynn Greenough, sister of Marc and Scott, had the most effusive praise: "I wish I could trade my brothers in and have you be my brother instead. Oh, and the ribs were excellent!"
High praise, indeed.
The next time you're considering ribs as a menu item, contact Georgia Smoke, as we will give you our best effort and our best effort is second to none.