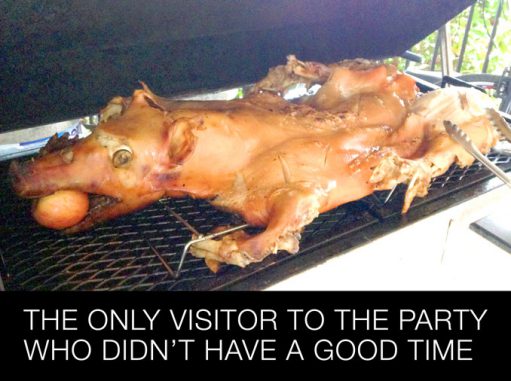 Georgia Smoke BBQ was retained to cater a special birthday party for 50+ attendees. Menu items included a 65-pound whole pig, Certified Angus Beef brisket, cherry smoked salmon, lemon-lime aioli, cole slaw, loaded tater salad, and a black bean + corn salsa salad.
The food was cooked fresh-to-order the day of the party and was delivered on-time.
Here's what the host had to say about the event:
"For my 50th birthday party I wanted to have an old fashioned pig roast and invite a lot of people. So my husband and I contacted Georgia Smoke BBQ and they delivered just what I had in mind. They smoked a pig which was laid out for people to pick. It made for a great conversation starter and everyone raved about the pork and all the sides. We had smoked brisket and salmon too and everyone loved these as well as all the sides. Everything was on time and was served appropriately, just right for an outdoor summer party. It was fun! John really wanted to deliver the vision I had for my party and it was perfect. I am already planning a future event with Georgia Smoke. – Melanie S."
Thank you for the compliments, Melanie, and we look forward to doing more pig roasts like this in the near future.