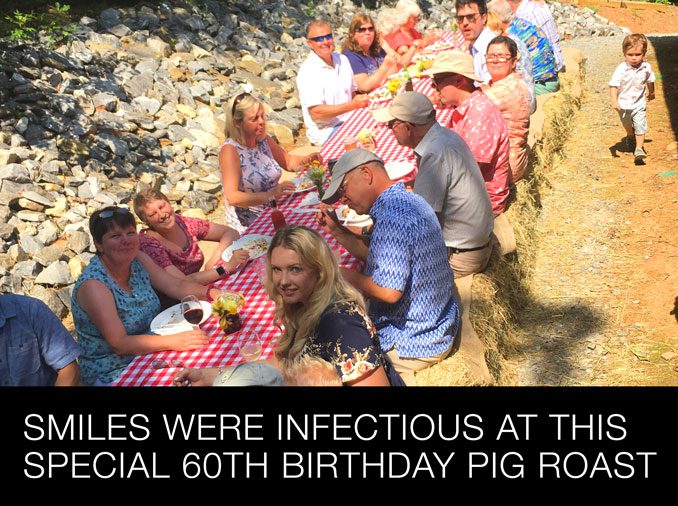 Georgia Smoke BBQ was recently retained to cater a special 60th Birthday celebration in Mineral Bluff, Georgia. People from all over the southeast and from overseas attended the event. Obviously, the pressure was on when you have people traveling thousands of miles just to sample world-famous Georgia Smoke BBQ (and of course attend the beautiful party.)
We met the pressure head-on with passion and precision. Menu items included a 65-pound whole pig, Certified Angus Beef brisket, cherry-smoked salmon with lemon-lime aioli, loaded tater salad, Georgia cole slaw, and garden-fresh corn and bean salsa salad. We also baked a fresh dessert of peach cobbler to add to the authentic southern feel of the party.
Guests sat at long tables to chow down and catch up on long-lasting friendships, and the setup was aesthetically beautiful: People sat on bales of hay while they enjoyed the true taste of the Georgia south.
All of the food was cooked fresh-to-order the day of the party and was delivered on-time.
Here's what the host had to say about the event:
"John worked tirelessly to make my Mother's 60th Birthday Bash an unforgettable gathering. The food was perfection, delicious to the very last bite. We thank John and his family for sharing his passion with us and look forward to the next event Georgia Smoke can cater. – Harriet M-A"
Thank you for the compliments, Harriet, and we look forward to doing special event pig roasts like this in the near future.
Below: The happy guest of honor (left) and avid Georgia Smoke BBQ fan (right) pose after the special meal.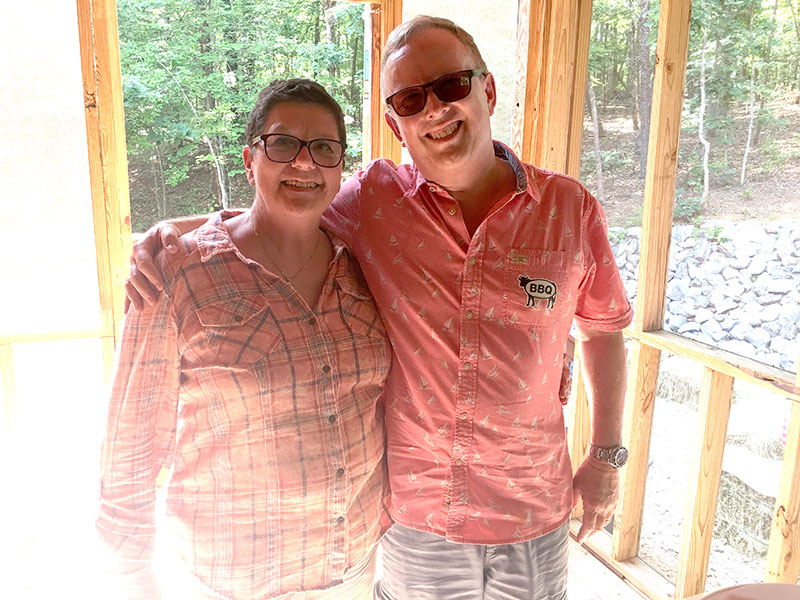 Below: The unhappy guest of honor poses after the special meal.