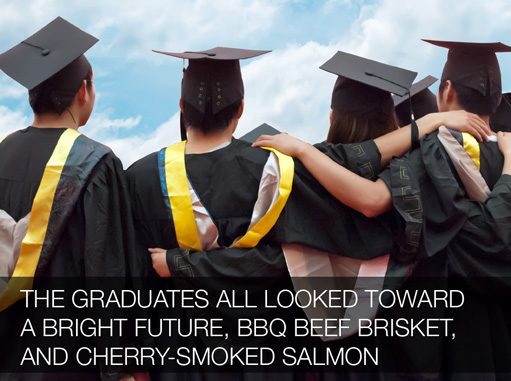 Georgia Smoke BBQ was hired to cater a Chamblee High School graduation party for 90 attendees. Menu items included roasted chicken, pulled Certified Angus Beef brisket, cherry-smoked salmon, lemon-lime aioli, cole slaw, loaded tater salad, and a black bean + corn salsa salad.
The food was cooked fresh-to-order and delivered on-time.
Here's what one of the hosts had to say about the event:
"We recently hired Georgia Smoke to carter our son's high school graduation party. We had 5 families represented and over 85 people in attendance and the food and service was nothing short of perfect!
The BBQ and sides were totally delicious, and the service was outstanding (i.e. everything was on time, cold food was cold, hot food was hot, etc.) We had brisket, chicken and salmon (don't forget the salmon; it was amazing and the first thing to go!)
Working with John and Sam is an absolute pleasure because they love their craft as clearly evident by their performance in the pit and kitchen! If you're considering Georgia Smoke to cater your next event, look no further! You will not find better a value anywhere, everything was fantastic! – Michael D."
Thank you for the compliments, Michael. We wanted to make sure the food was as special as the graduation event. We look forward to doing more graduation parties like this in the near future.